Happy Halloween! I'm excited to take the boys trick-or-treating tonight. There was a trunk-or-treat event at the church over the weekend (where people park their cars, decorate their trunks, and kids go from car to car), but I missed going with them as I was at a meeting out of state.
This year, Baby J is reusing M's old lemur outfit and the Menininho is going as….a cheeseburger.
I'll be honest…I wasn't sure if M would be able to choose his own costume. He tends to have a difficult time making choices still, and often says the opposite of what he means. So, Mark and I went through the available costumes at Target and created a short list of what we liked. I decided to see if I could get M's opinion on those. I showed him picture after picture, asking "Do you like this? Would you like to be this for Halloween?" and he turned me down each time! I let him look through every costume at Target and again, he said no to each one.
"Ok….so what WOULD you like to be?" I asked. "Cheeseburger!" he replied enthusiastically. I had a good laugh because of course he would say that…it's his favorite food!
When Mark was around later, I told him to ask M what he wanted to be for Halloween. "Star!" then "Nonono! CHEESEburger!" I was surprised that he was consistent.
We asked again off and on the next two days and always the reply was cheeseburger/hamburger. I wasn't sure how I was going to go about making the costume, but lucky for me Mark's cousin had seen cheeseburger outfits at Old Navy so I promptly went online and ordered it.
When the costume came, M carried it home from the office all by himself.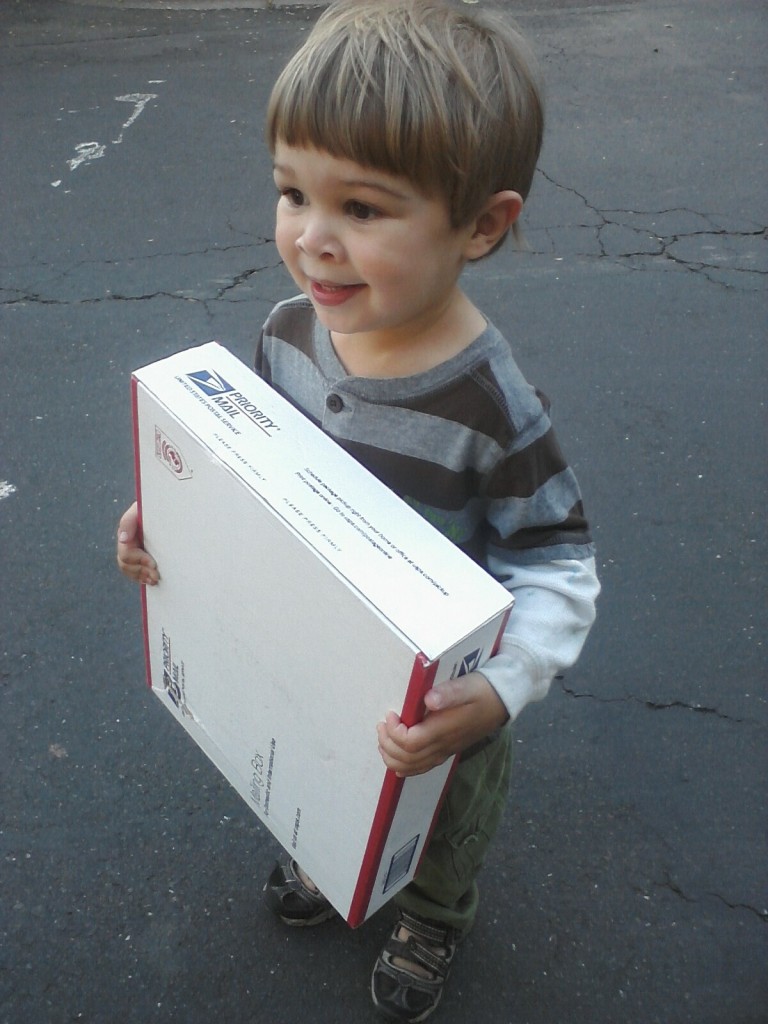 He was thrilled to see it and made me try it on him immediately. He didn't want to take it off! Even better, he has been eager to wear it for actual Halloween events. Whew!
I am so excited and proud that he was able to get the concept of Halloween and make his own costume choice!
Are you or your kids dressing up for Halloween? As what?