So, to make a long story short, the Menininho is in the hospital with a mild skin infection. We spent part of Saturday night in the ER and were sent home with antibiotics and to come back if the infection spread past the lines the doctor drew to mark the current size of the infection. By early evening Sunday we saw that it had spread about an inch and got to the ER around 8:30. By 3 am Menininho and I were headed in the ambulance (just b/c he had an IV in, not b/c he was in danger) to the hospital where we'd be admitted. He's been a real trooper and we are very much looking forward to going home tomorrow morning. Don't get me wrong: the private room here is plush. But, I'm sure Menininho would rather spend his day crawling around the living room than the crib cage.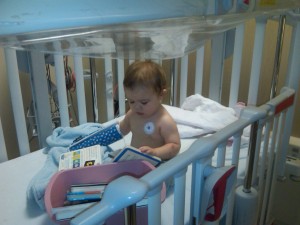 Here are some things I've learned from the experience.
1) If time permits, pack a bag. At best, you're going to be in the ER for a few hours and even a nice pediatric ER like the one we went to isn't necessarily equipped for younger kids. We needed to keep Menininho occupied and while the first night we had access to a big computer with movies, the 2nd night we did not. And I don't know about you, but I don't want to give my kid the toys from the waiting room to play with because who knows what germs might be on them? I was very glad that I'd packed a few of his favorite books and a snack. At worst, you're going to be admitted to the hospital for an undetermined amount of time. I packed Menininho's blanket, the medications that Mark and I would need, a book for each of us, extra diapers and wipes, and showered before we left for the ER. Everything fit in the diaper bag and we were good to go until today, when Mark could stop by the house to get a change of clothes.
2) Go with your gut. No one knows your child like you do. The resident last night didn't want to admit us at first because Menininho didn't react when he pushed on Menininho's infection site. I was firm in my knowledge that something was wrong and seeing as this is a kid who knocks his head and keeps on going, I knew his lack of a response meant little. Luckily, I didn't need to convince the attending doctor, but I was prepared to.
3) Ask lots of questions and write down the answers. You cannot count on the doctors and nursing staff to keep track of everything. For instance, I asked the nurse this afternoon when Menininho's next dose of medication was, and she told me every 8 hours. I remembered that it was every 6 hours and was adamant, so she went to check his chart and found I was right. There are 2 antibiotics commonly given, one every 6 hours and one every 8, so had I not spoken up he could have received the wrong medication at the wrong time.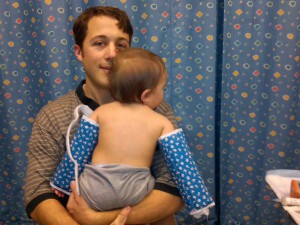 4) There is a fine line between advocating for your child and being obnoxious and demanding, but try to figure it out. My mother, who has much more experience with children in the hospital than I do, summed it up nicely: "You need to be demanding while constantly apologizing for being demanding." You'll get farther being nice to the nurses (because, let's be honest, they're doing the bulk of the work and getting the least amount of appreciation) than being nasty, but at the end of the day it's not about getting everyone to like you, it's about taking care of your child. The doctors forgot about us on rounds today. I asked every couple of hours after I knew rounds had ended for a doctor to stop by and fill me in, but I was always brushed off. An hour before shift change I was much more adamant that a doctor needed to come. The doctor was definitely upset with me, but she hadn't followed protocol. I probably could have been a little sweeter in my gratitude towards her though. Live and learn.
5) Along those lines, figure out what you can do yourself and then do it. Upon arrival, the nurse gave me a tour of the floor. When Menininho needed a change of linens, I went and got them myself. I made sure to familiarize myself with the general area so I could do things like grab breakfast on my own. Also, keep track of your child's waste, even if you're not initially directed to, because more likely than not the doctor is going to want that information. That means saving the diapers and recording how often your out-of-diapers child uses the bathroom.
6) If possible, form a team. Taking care of a sick child in the hospital is exhausting. If you and your partner can trade off in the duty, great. If you're flying solo, perhaps you can trade with another parent on the floor, or find a nurse willing to keep an ear out for your child while you grab a snack.
7) Know that you can do it and will get through this.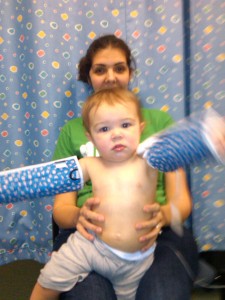 Anyone else have tips to share?