Ok, so this is more of a wordFUL Wednesday, but I can't help it!
Just look at this kid.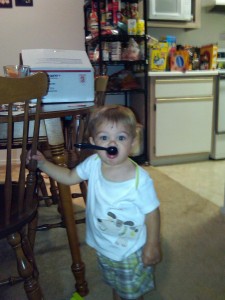 He did his counter-clockwise walking around the table like this for quite awhile the other night. I'm grateful that Menininho paused long enough for Mark to snap a picture.
It's been rough for me lately, working on the special education stuff for my son. There are days when it's just so sad that I have to sit and cry. I end up comparing him to other kids his age and sniffling to Mark "Why won't he let me hold him when he cries? Will we ever get him to quit hitting himself? I wish we could play TOGETHER."
And then he does something like put a tablespoon in his mouth and make a funny face and my heart swells and I realize I am darn lucky to be his momma.
He is a joy.