Easter was so fun this year! I love that M is beginning to grasp some of the traditions associated with holidays. His preschool did an egg hunt and he came home telling me about it (which in and of itself is AWESOME, because he still struggles with being able to relay information when asked about events that happened in the past). I told him the Easter Bunny would deliver eggs to our house for him and Baby J to find and M thought that was pretty great.
We had the egg hunt on Saturday because Sunday morning is church and then we were heading straight to Mark's grandparents' house. I got up before the kids, scattered eggs throughout the backyard, and then Mark & I made them breakfast before they could go collecting. Baby J still has trouble walking on grass because it's uneven, so he basically refused to move. Surprisingly, his older brother brought him every other egg so that he could throw them in the bag. It was SO ADORABLE! And just think about the level of awareness that goes into making that decision/sacrifice!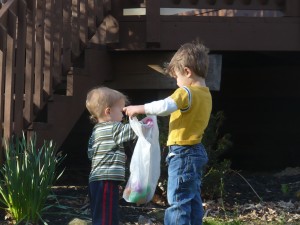 Sunday morning the kids woke to find Easter baskets in their high chairs. Each boy got a stuffed rabbit and Baby J LOVED his. Cutest. Pictures. Ever.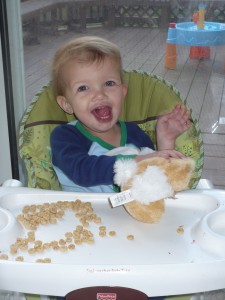 We got to church early so Mark could warm up…he sang a solo during the service. I ended up singing with the choir too.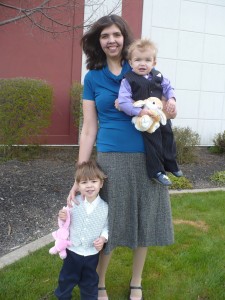 That afternoon we spent with Mark parents, youngest brother, grandparents, and Uncle Jim/Aunt Emma/Cousin Jimmy (who was so sweet to shave off his mustache before coming, because M was terrified of it at Thanksgiving). Great company, great food.
How did you spend Easter or Passover?