As promised, this week I am featuring small businesses run by my readers! I am really excited about these stores, and I know you will be too.
Today I'm featuring a store that recently made its Etsy debut: Bubaloo and Co.! I met one of the owners, Allison, back in high school but had no idea until recently that she was such a seamstress!



Allison writes:
Who:
We are two unstoppable sisters. Watch our world. We take our Diet Cokes with lime [okay, one of us does] and get hit on at the gym [okay, the other one does].
When we're not saving the world with our ninja moves and rock hard abs [our husbands wish], we're playing house … and we love it. We have adorable children [with the occasional scream, drawing on walls, playing in the toilet water, etc], but even still, adorable.
Unfortunately, we live hundreds of miles apart. We're hoping our combined efforts and this Etsy shop will fill the gap.
What:
Bubbaloo and Co. specializes in infant and toddler neck ties as well as fabric flower accessories. Our ties and flowers come in a variety of styles: modern, traditional, unique, shabby chic, and down right adorable.
We hope to continue to add to our line of accessories for your munchkin. Feel free to convo us for any custom items.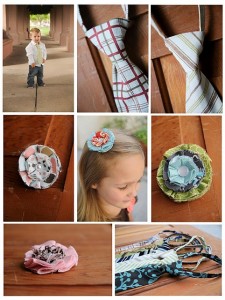 Allison is also offering a giveaway to all of you! One winner (the first selected) will win a tie and one winner (the second selected) will win a fabric flower.
To enter, do any or all of the following:
[1] Go to Bubaloo and Co. and tell us what product is your favorite:
[2] Let your friends know about this giveaway via Twitter, Facebook, or your blog. (Let me know where it's posted and make sure it's public; worth one entry total)
[3] In preparation for the Christmas season, serve someone, then come back and let us know what you did!
FYI – Fans on Facebook get exclusive deals and discounts. Feel free to like their page.  

Remember, you must leave a separate comment for each entry. Please do not hit "reply" to your original comment either…do a totally separate comment for each entry. This giveaway is open to US residents and runs till 11:59 pm on Wed. Nov. 24th, 2010. Winner will be notified via email and have 48 hours to respond or a new winner will be chosen.
* I did not receive any compensation for this feature and giveaway.