I've decided to start a tradition of asking the boys a series of questions on their birthdays and then comparing the answers as they get older! The Menininho was a good sport and let me take a picture of him before bed and ask these questions after we'd read one of his library books (I love that he is developing an interest in the library!).
To be honest, the initial answer to a fair number of these was "dooby." (Thaaank you, Uncle Scott, for teaching him that word. It is his latest perseverative phrase.) So, I occasionally had to give some examples of appropriate answers in order to get a response that made sense.
So without further ado, here is the Menininho's "favorites list" at age 3! All responses are verbatim.
Favorite food: happy cake (birthday cake)
Favorite dinner: pasta
Favorite fruit: I think grapes and pineapple
Favorite TV show: Elmo
Favorite song: Guard Him Joseph Na Na Na
Favorite book: My puzzle book
Favorite toy: Memory (a memory game)
Favorite singer: Train. My daddy sing Train.
Favorite stuffed animal: Cream Bunny
Favorite animal: I like horses by Daddy.
Favorite place to go: To McDonalds
Best friend: Mommy my best friend.
Things I like to do for fun: Going to my clubhouse to play with some hangars. Play with memory.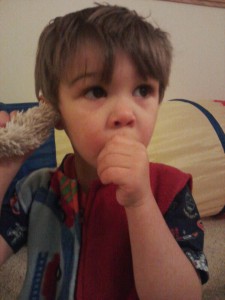 Happy birthday, Big Boy!