While I'm away at the National Marfan Foundation conference and vacation with my family, I will have a few guest posters from the Marfan community. Today's post is by fellow Marf Mom Stephanie. I love her sense of humor and she's been a valuable resource too. Just this week she gave me some info that led to a medication change for Baby J! Get your hankies ready…this post is a tear-jerker (in a good way)!
When I met Mark, my world stopped. I took one look into his enormous brown eyes, and I knew that I was done for. That was just about 13 years ago, and I have no regrets. We started dating and after what seemed like the longest 5 years of my life, he finally proposed to me. We were married June 23, 2007 in our most favorite place, on a beach in Rhode Island. The weather was perfect, my husband was perfect, at that moment in time, everything in my life was perfect.
I knew that I wanted children, and I knew that Mark had Marfan syndrome. To the outsider, it wasn't anything obvious, but to me there was no way around it. Because of his diagnosis, we had had many late-night-into-the-early-morning discussions about having children. Mark has a very mild case of Marfan compared to others that we had seen. His vision is near perfect with contacts or glasses, he is tall, but only 6'1 so he doesn't really stand out, he does have long fingers, a pectus, and the vertical scar that is the obvious tell tale sign of open heart surgery from his 2007 aortic valve and root replacement. The fact is, he is alive, and no one ever told him that he was going to die at an early age, or that he shouldn't expect to live a normal life. With all of these things in mind, Mark and I decided to embark on the wondrous road to parenthood.
We discussed this with Mark's cardiologist just to make sure that we weren't missing any critical information, and he told us what we had already known. Our children would have a 50% chance of being born with Mark's Marfan gene mutation.
He left out one very important detail which in some overly selfish way, I'm glad that he did. He never told us that our children could be more severely affected than Mark was. Had I known, we may have chosen a very different path in life, and I would have missed out on some of the most amazing life learning moments ever.
Connor was born in Feb 2009, and just like everything else in our lives at the time, he was absolutely perfect. He was 20 inches long and a perfect 8 lbs 6 oz. He gave Mark and I so much joy, that after a short time we decided that we would try for one more. We had no idea how much we were tempting fate.
On Jan 19, 2011, Logan was born. He was delivered via c-section, and when he came out, I waited patiently for the "cry", and it never came. What I did hear was a delivery room nurse ask the doctor if they should save the cord blood and the doctors response "no, it is too late." At that moment, which in total probably only lasted 2 minutes at most, my world stopped and it felt like hours. I thought he had died. For some reason no one was talking to me, only around me. Finally, the neonatologist came over to me and explained to me that he thought that our son had Marfan syndrome. I was infuriated! Is that all? Why does everyone look so worried? We could handle that.
When I finally got a look at him, the disorder was beyond obvious. Logan was 22 inches long, 8 lbs 7 oz, pectus, long fingers, long feet, and toes so long that they crossed each other. He was taken that day for an echo, we were told what we already knew, and given information on how to care for our baby. Mark's cardiologist came over and looked at Logan. He was the very first person that robbed me. He robbed me of hope. So much so that for first few days of his life, I was terrified to bond with him. The good doctor did me the "favor" of letting me know about his one patient with "neonatal" Marfan syndrome that died in early childhood.
That first day of Logan's life began the list of many, many echos and hospital stays. We knew that Logan was going to need surgery at an early age, but his cardiologist talked about it like it was far enough away that we didn't have to worry about it now.
As the weeks and months went by, I watched my beautiful, thriving baby boy waste away to nothing. He was lucky if his body would allow him to consume 3 oz of formula a day. Because he was working so hard to pump his heart and keep his brain working everything else just shut down. He was sleeping 16-17 hours a day, he was on 24 hour o2, and was at the maximum allowed dose of diuretics and Losartan. Still, his cardiologist felt that Logan could wait months without surgery.
One day in August 2011, my husband took Logan to a cardiology check up while I was at work. The cardiologist sent Mark home and told him that Logan needed to be hospitalized for a "tune up" for a few days. He said that it wasn't an emergency, and we could bring him home to pack and bring him back the next day. It made no sense at all to me, and something deep inside of me knew that he was wrong, and that this would be much more than a tune up.
On arrival to the ICU we were told that Logan wasn't leaving without having surgery. His pulse was racing at 190, and his x-rays revealed that his left lung had completely collapsed. I immediately signed on to Google and searched for the best pediatric cardiology hospitals in the US. To my pleasant surprise the #1 was a 3 hour drive, but without a doubt the best drive I have ever made in my entire life. Logan was taken by ambulance, and I followed close behind. When I arrived at the hospital, I checked in and went straight to the cardiac ICU, anxiously awaiting my baby boy. After over an hour of pacing, one of the doctors came out, and told me that Logan was arresting and needed to be intubated and sedated immediately for his own safety. It would be nearly 2 months from that day that I would be able to hold him again, and over a month before I was able to hear his sweet voice. Logan needed to be sedated for 2 weeks before surgery could be done in order to give him a chance to heal a bit so that he would stand a chance of surviving the operation.
Finally, on September 1, 2011, Logan was taken away from me for the very first time to be operated on by the amazing Dr. D. There is no way to describe the feeling that you have watching a complete stranger take your baby away from you, especially when you know that in a few short hours they will be watching as his tiny, broken heart is stopped for an attempt to fix it. Dr. D had decided that rather than just fix Logan's mitral valve which was the worst, he would take on everything that was going to need to be done in the near future to prevent Logan from having to go on bypass numerous times. Updates came as frequently as they could from friendly nurses. "Logan in under," "Logan is being prepped," "Dr. D just made his first incision," "Logan just went on bypass," Logan just came off of bypass," "Dr. D is closing him up," and finally "Logan is being taken up to the ICU, you can see him in about an hour." Shortly after the nurse's final words my hero, Dr. D, came out, shook my hand and sat down to talk with us. First let me say, that shaking this man's hand was like shaking the hand of a rock star. How in the world do you thank a person that saved your child? He told us that Logan was a VERY sick little boy, but luckily for everyone else, no one bothered to tell him how sick he was. They had expected difficulty during the surgery, and Logan breezed through it.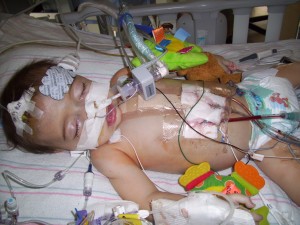 Since then, that seems to have been a common theme in Logan's life. He has no idea how sick he is so he knows no limits, and he shows me this everyday with his beautiful smile and constant energy. During the past 10 months Logan has nearly doubled his weight, has learned to sit, roll, and is finally beginning to crawl. His determination to keep up with my 3 year old is inspiring.
Having Logan has been the best blessing that I have been given thus far. He stopped me in my perfect world tracks, and taught me life lessons that I will remember until the day I pass. He has taught me to live my life day by day because each one is a gift. Logan's illness has shown me is how strong I am. I have the ability to hold back tears and put on a smile when a doctor is taking him away for surgery so that he isn't afraid, I have learned to fight for my child like I never thought I would have to. I have learned that doctors don't know everything about my child, but I do. Although I can't open him up and fix him, I know when something is wrong. Possibly the most eye opening lesson that having Logan has taught me is that I now know what it really means to be scared. Before Logan the things that scared me the most some how or another all came back to money. I was terrified that I would lose my job and that we wouldn't be able to live the life that I had become accustomed to. The fear of being jobless and broke is nothing compared to the fear of the possibility of losing your child. There is not a day that goes by that I don't think about the fact that there is a real possibility that Logan may not make it to kindergarten. I cry myself to sleep, I pray to God every night for a miracle, and sometimes I even hate myself for not knowing that he could be so severely affected, and for bringing a child into this world that will have to endure not only the physical pain that comes with connective tissue disorders, but also the emotional pain that comes with being different.
But, it is these fears that make me hold back the tears until he is asleep in bed, because I don't ever want him to see just how scared I am, and it is these fears that made me determined to make sure that Logan gets to experience as many exciting things as possible.
I can't imagine what my life was like before I had children. I look around my house and notice the lack of anything breakable on shelves, the scattered toys which I will no doubt trip over in the middle of the night to help someone go potty, or get a midnight drink. Rather than Grey's Anatomy on my television, there is Dora and a few stickers that refuse to come off despite my best efforts, and I can't tell you the last time I listened to "real" music in the car. You wont find any Monet on my walls, but you will find framed pictures of tiny hand and foot prints, and rather than diamonds in my jewelry box, you will find macaroni necklaces and Marfan support bracelets. Despite all of the changes made in the last 3 years, I wouldn't trade my life for anything or with anyone for all of the money in the world. And I wouldn't change a thing about Logan for it either, because to me he is perfect.