Baby J has been dealing with ankle weakness his entire life. His wasn't bad enough to prevent him from standing or walking, but he's definitely not what I would call a graceful walker: he constantly trips over himself and his toes still drag sideways. Our biggest concern with his ankles though is that they are simultaneously turning inward (pigeon toes) and he's walking with one foot in front of the other, like he's on a tightrope.
We *finally* got a physical therapist from our state's early intervention program to come to our house to evaluate J. That was on Friday. She spent a couple minutes looking at him walk and asked me what our concerns were. I said we thought it might be time for AFOs (ankle-foot orthotics) and she immediately agreed. She just happened to have a few with her and lo and behold, one pair fit Baby J pretty well! So, he's got these on loan till his orthopedics appointment in two weeks.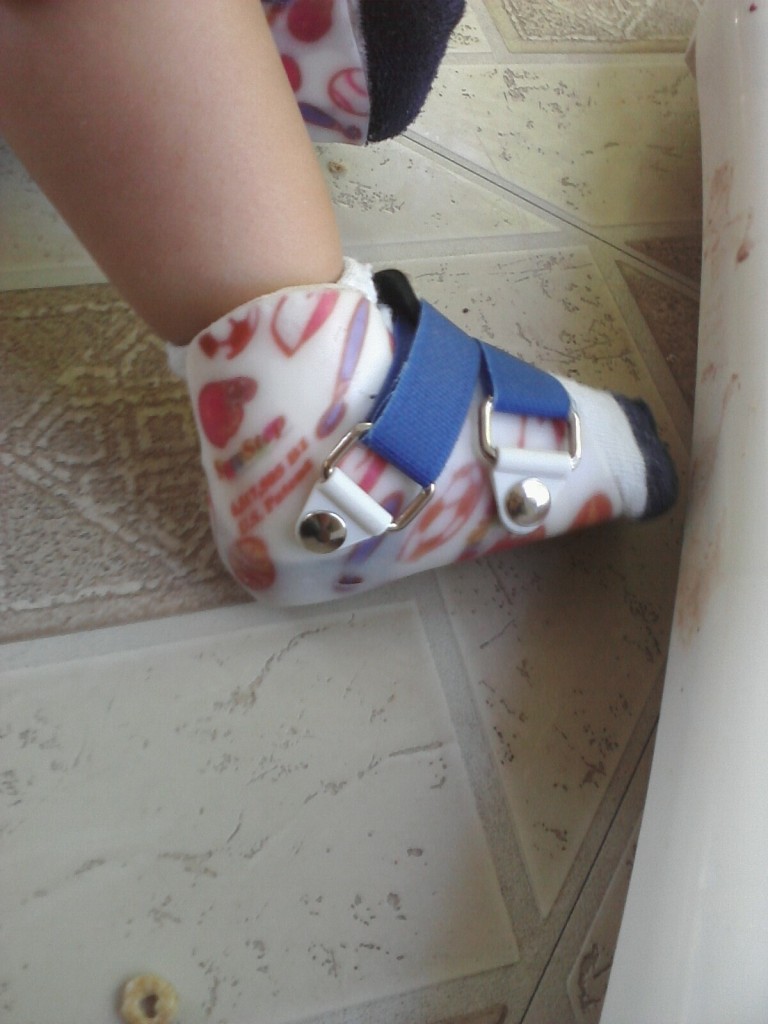 It was amazing how quickly Baby J took to wearing them! They worked too…when he only had the AFOs on. But they're slick and we have hardwood floors, so I needed to buy shoes for him to wear overtop the braces. With the shoes on, he's back to walking pigeon-toed. I'm not sure if this means he'll need to wear a different type of AFO or not.
The PT has considered two types. The one you see J wearing above goes to just the ankle. It's nice because it allows for some normal ankle movement and you can find shoes at the store to fit over it, but it won't correct the tightrope walking. The other type we discussed are AFOs that go up to the knee. These would correct both of J's walking problems, but they would not allow normal ankle movement, which means he would walk kind of robotically (think Forest Gump). AFOs are apparently also controversial, and not all doctors will prescribe them.
I'm anxious to see what our orthopedist will say when we go see him in early June. I don't see a downside to trying these out but I'm curious as to which type might be best for J and whether there is any research about the use of AFOs in people with Marfan syndrome. I know back braces rarely work for us in terms of preventing scoliosis surgery and I wonder if it could be similar with AFOs.
Have you or your child used AFOs? What was your experience? Any suggestions for us?