Happy 4th of July, all you Americans! I hope you are having a great day celebrating our freedom and those who fought to give it to us.
It seems to me like July is when summer travel really kicks off, and today I've got a review and giveaway that is perfect for your vacationing needs.
Yak Pak is a New York-based company that manufactures backpacks, luggage, and accessories (neck pillows, dog clothes, phone cases, and leashes, to name a few). They are known for their fun prints and revolutionary designs. For example, they created the first mini-backpacks. Remember those? I thought I was soooo cool wearing one.
Yak Pak allowed me to choose a bag to review and I selected the "dufflebag/backpack in one." When it arrived a few days later, M took one look at it and declared he wanted to use it. I don't blame him! Just look at it!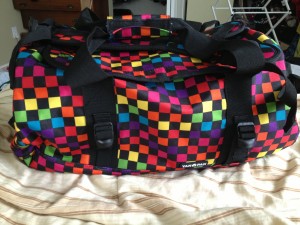 I first used the bag on my emergency trip to Utah. It fit my giant breastpump, 2 days worth of clothes, my toiletries, and a book. It also fit as a carryon! The backpack feature is really handy for airports, too, especially if you need your hands free to push a stroller or corral small children. Finally, it was easy to spot in baggage claim, when I ended up gate-checking it on my flight home.

On a weekend trip to my hometown, all the clothes for the 4 of us fit.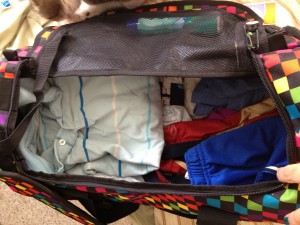 When we took our long car trip to the cardiologist and the beach, I let the kids fill the bag with all of their toys and books. We propped it between their seats and they could pretty easily access whatever they wanted.

I found the bag to not only be fun, but great quality and easy to use. The backpack straps are durable, though not padded. When wishing to use the pack as a duffle bag, the backpack straps slide under the handles. One had slid partway out when I picked it up in baggage claim, but it wasn't damaged at all. This bag is now going to be a staple for all our family trips!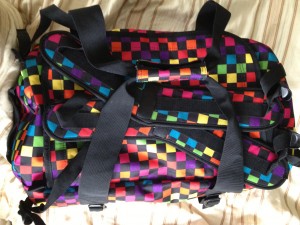 Now you can win your own Yak Pak product! This giveaway is open to residents of US AND Canada ages 18 and up. Winner will be sent the link to a password protected site where they can choose which product they'd like to receive.
a Rafflecopter giveaway