I had the opportunity to attend the wedding of my oldest friend this weekend.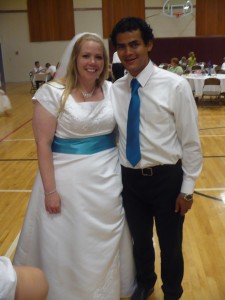 Erin and I have been friends since we were 18 months old. How many people can say they are still friends with someone they knew at that age? We're more or less sisters. In fact, Erin lived with me for a few months when I was pregnant with M, after Mark had moved to CA for work and I was still in graduate school in Ohio. It was during this time that her now-husband started wooing her. Erin kept putting him off, but let the record state I knew then that they'd get married!

Baby J and I found a last minute deal on a plane ticket (thank goodness!) and flew out to Ohio Friday morning. He is a pretty great traveler, in case you were wondering, and we even got compliments from the people around us. Now, I believe all babies are "good" and I certainly didn't do anything special to keep J from crying, but I will take compliments where I can get them.

We stayed with my friend Steph (friends since I was 8 and she was 7), her husband and their daughter. I never get to spend enough time with her when my family and I are in town, so I really appreciated their generosity in hosting us.
Erin made a beautiful bride, the ceremony was perfect, the reception lovely. I'm not one to get emotional at weddings but I got a little teary-eyed giving my friend a hug after the ceremony. I am so glad she's found her other half and I'm excited for them to start their lives together.
Congratulations, Erin and Ronald!