Today I'm writing on Mama Kat's Writers' Workshop prompt #3: Who are you giving a timeout to?
Is it possible to give a Time out to time? If it is, I'd like to request that please.
See, I got sick on Saturday and only just started feeling better yesterday. This meant I haven't gotten a lot accomplished. Yesterday I spent the entire day at the hospital: getting Menininho's evaluation report (WHICH CAME IN THE FLIPPING MAIL THE SAME DAY, thanks for telling me!), having a ton of probably totally unnecessary blood tests for rare diseases (my OB is nothing if not cautious), getting my end-of-first trimester echo, meeting with my cardiologist, and having part of my echo redone because two techs working together couldn't find my abdominal aorta. I didn't get home till after 7 pm. Then it was dinner, American Idol, answering emails, folding laundry, answering questions about getting diagnosed with Marfan, trying to blog, and coming up with our packing list.
We're taking a little trip this weekend, so today I need to: pack suitcases for Menininho and myself (and Mark, who am I kidding?), pick up my new prescriptions, learn the Boot Scootin' Boogie, teach said line dance and a couple others to a group of unsuspecting 8-11 year old girls, run a few errands, do more SLP paperwork, and fill out my absentee ballot. There's probably stuff I'm forgetting, like showering, but we all know that's overrated.
So Time, if you could just take a break so I can accomplish everything I need to in the next 24 hours, that would be much appreciated!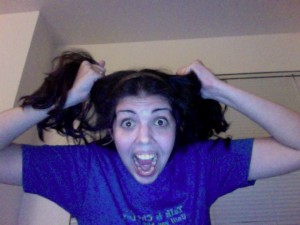 * Please disregard the above request if you granting it would also mean that I have to continue listening to Meg Whitman is Satan/Steve Poizner eats babies commercials every 6 seconds on TV.