This past Saturday we celebrated M's third birthday with our family. My mom has come in from Wisconsin for 10 days and my brother and his new fiancee, Taylor, drove in from Chicago for the party. The Menininho requested a rainbow party and I had a lot of fun scouring Pinterest for ideas.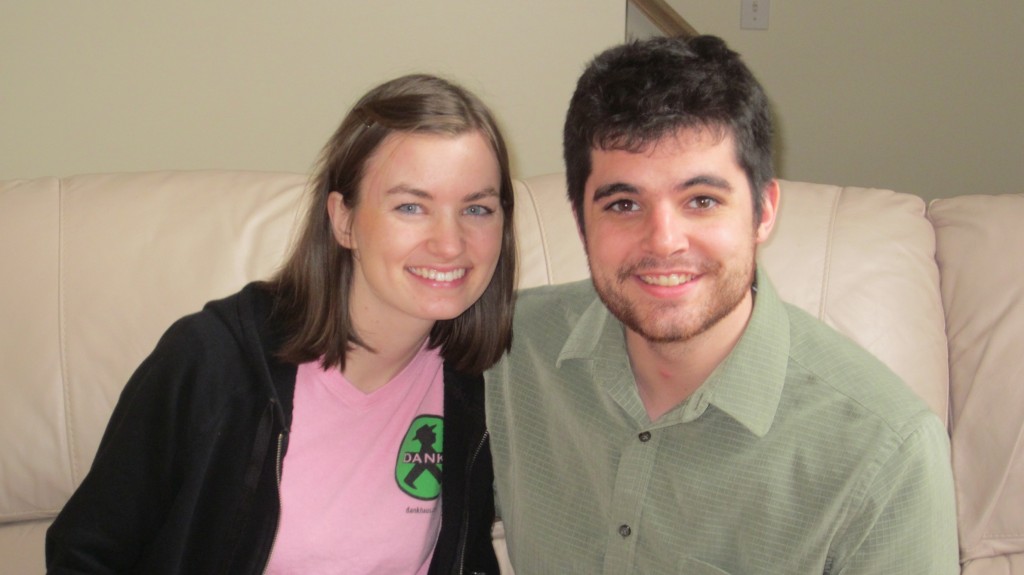 I made glitter playdoh for the goodie bags, which I sadly neglected to take a picture of. The recipe came from here though. I halved the recipe for each color and got 4 adult fist-sized balls from each color. It was too much playdoh to fit in the goodie bags so I had to give each child 2 ziplock bags worth of playdoh in addition to their goodie bag. Next time I'd just do 1/4 of the recipe per color for a party this small (just 4 kids).
We tried to hit all the colors of the rainbow with the lunch we served. Pulled pork sandwiches were the main course.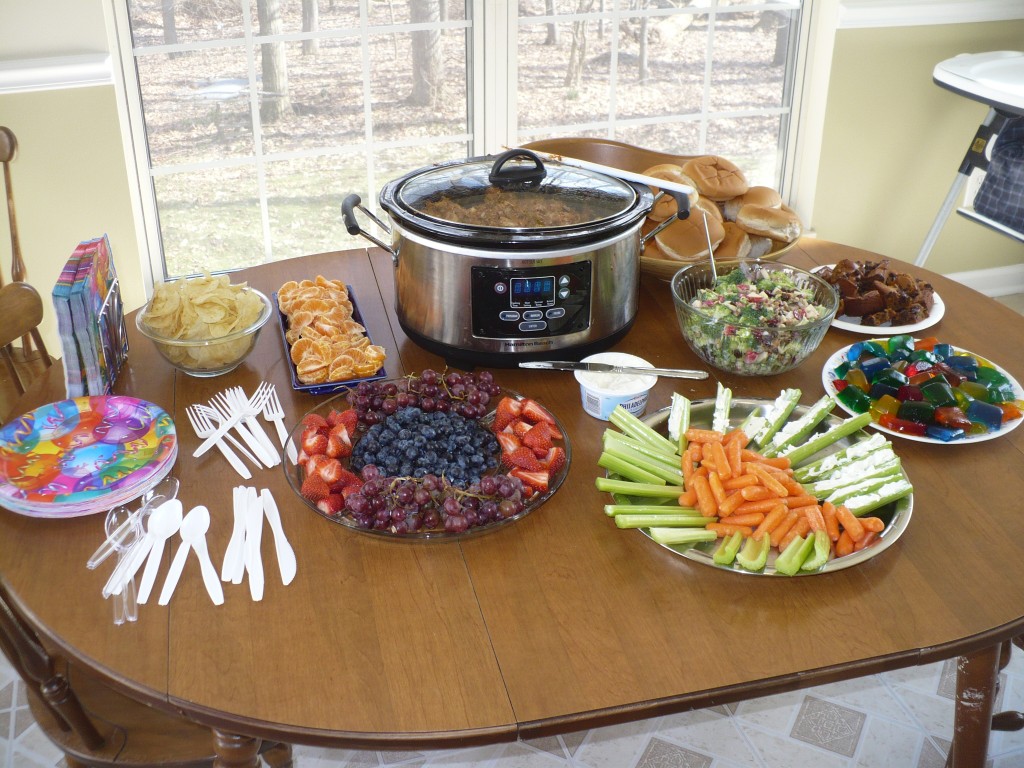 For a game, the kids played pin the cloud on the rainbow. M's cousins are 3 and 5, so this was a very quick and easy activity for them to do in between lunch and cake.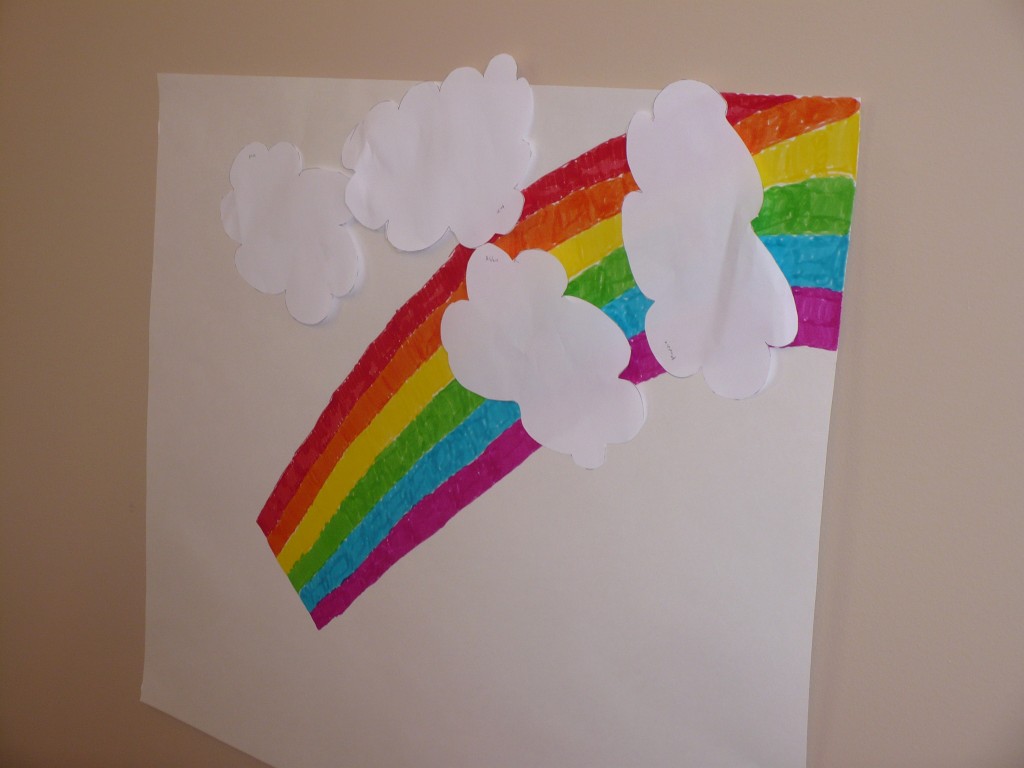 I'm most proud of the birthday cake. (I got the idea here.) I found a dairy free white cake recipe online and separated the batter into six bowls. I used gel food coloring to dye them and then used a spoon to splatter batter all over the pan. I alternated colors, doing half of a bowl at a time. There was very little issue with the colors running, as you can see below. For the frosting I used Pillsbury funfetti icing, which is surprisingly dairy free. And for those who are curious, the cake was slightly more dense than a box mix cake, but otherwise tasted the same. I substituted coconut milk for the almond milk the recipe calls for and you couldn't really taste it.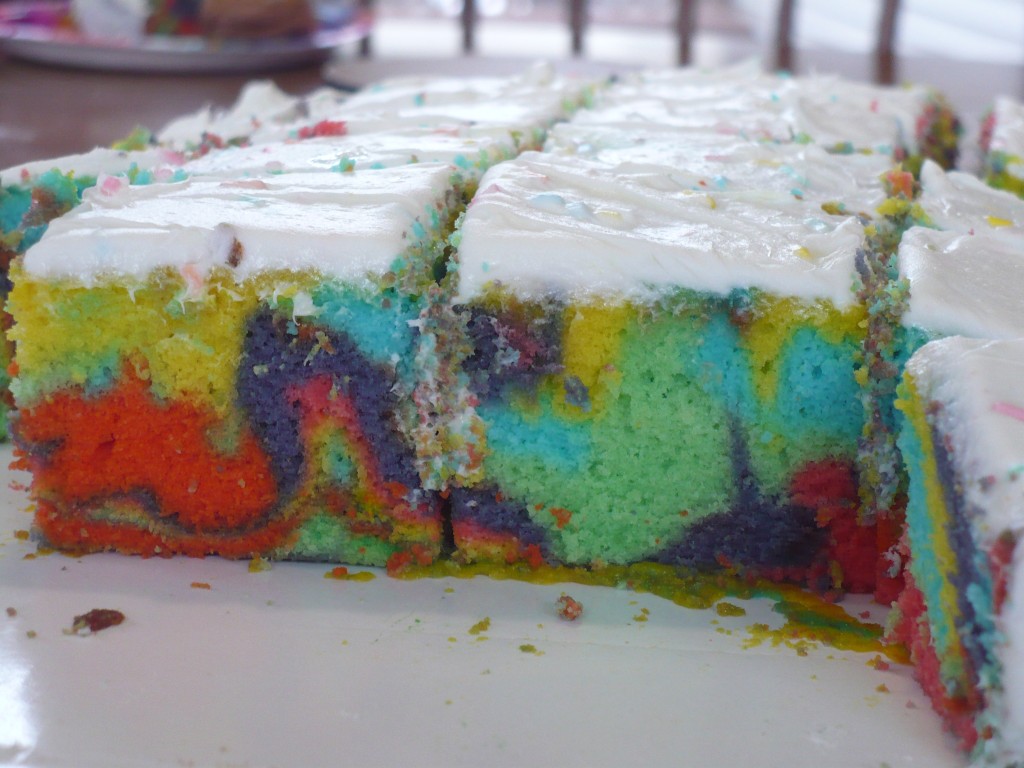 I think that M had a good time, though I could tell the party was difficult for him. He did really well through lunch, started to meltdown around the game but rallied for cake. I tried to rush through opening presents (he kept covering his ears because of the noise) and he completely melted down just after he opened the last one. M was definitely excited for the party but I think he got a little too worked up ahead of time, as evidenced by him spending a good hour running around that morning saying "I going to the shoe store to buy the missing shoes. Bye Mommy!" over and over and over. So, by the time the party rolled around he was already a little worn out and then we had almost 20 people over. I think next year we'll keep it to just family again, or if he has some friends from school do a separate party with them, but combining family and friends is going to be too much at this point.
All in all though, I'm glad we did a big party for M this year and that he did so well with it. It was great seeing him so excited