Last Monday Baby J had his first surgical procedure: an endoscopy to check for celiac disease and other potential causes of his GI problems. I had mixed emotions going into it. On one hand I was sad that he needed to have it done, but on the other hand I was grateful that his first procedure was such a small one and that he's made it this far before needing anesthesia. By his age I already had 2 or 3 abdominal surgeries, and many of his little friends have already had major surgeries as well.
We were asked to arrive at the hospital an hour and a half before J's scheduled time. J was not allowed to have food after midnight, breastmilk 4 hours before the procedure, and clear fluids 2 hours before. I was worried about all the downtime before the surgery, but we were kept pretty busy.
Almost immediately a nurse came to the waiting area to take us back to pre-op. Over the next hour we met with a physician's assistant, the anesthesiologist, and at least one nurse. I repeated Baby J's history to all of them, while he ran around the room. Everyone was very nice, but there was also a somewhat frustrating lack of knowledge about Marfan syndrome. Once I was asked if J needs any more echoes since his aorta is not enlarged (answer: YES!). My favorite was when the anesthesiologist said "Oh, so you just think he has Marfan because of family history," to which I replied "No. We KNOW he has Marfan because of genetic testing." I mean seriously. If I tell you he has Marfan syndrome, why assume that I actually meant something else? Too many med pros believe that Marfan syndrome can not be diagnosed at this young of an age and that's just not true.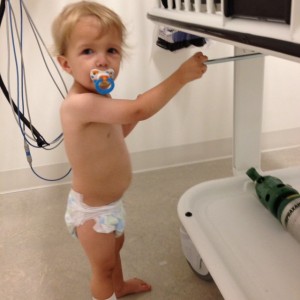 Anyway, rant over. About a half hour before game time I was given a syringe of versed to give J. I was pretty surprised that the nurse insisted I administer the medication. It started working within a few minutes and I had to make sure that J stayed sitting down in the crib so he didn't hurt himself, as he was swaying around like a drunk.
Our GI came by, reviewed everything one last time with me, and then it was time to go. I was given scrubs to wear and accompanied J into the OR. I held his hand as they put him under using a mask. This was a little emotional for me. The nurse had prepared me for his jerking around, telling me that it was part of the medication and he wouldn't remember it. Well, I DO remember it. When I had my ablation in '03, I had some sort of reaction to the gas. My vision became a wall of yellow with black flecks and I panicked, worried that the doctor wouldn't realize that I wasn't unconscious. I clawed at my face and tried to scream, and then finally went to sleep. The whole process probably only took a few seconds but it felt like an eternity to me. So, while J's nurse insisted his jerking would be involuntary movements, part of me could not help but worry that it was otherwise.
Once J was unconscious a nurse led me back into the waiting room. I had just enough time to grab a bite to eat at the cafeteria downstairs before he was out of the OR and the GI was meeting with me to go over findings. I spent about a half hour waiting for J to wake up and then he was SUPER cranky and only wanted to nurse for awhile. He did have trouble choking at the beginning…he was problems with penetration/aspiration anyway so I think being groggy from the anesthesia just made it worse. After about a half hour though, he was his perky old self! Although the post-op nurse told me he'd probably sleep all day, J was off and running as soon as we got home.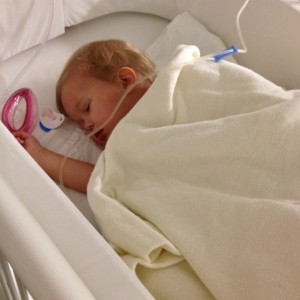 Since then, we've received the biopsy results and everything is normal. I'm relieved Baby J doesn't have celiac disease but anxious to find out what is going on. Immunology appointment in about 3 weeks!