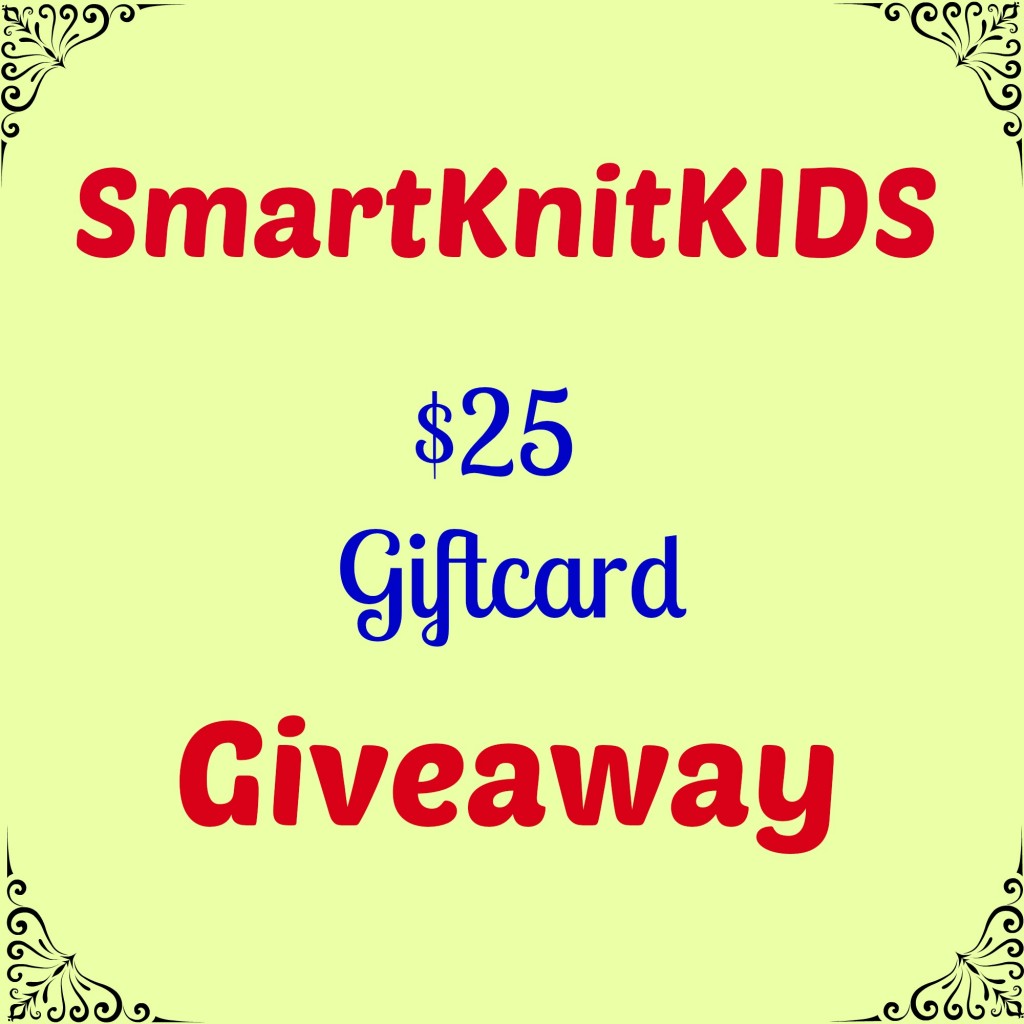 Those of you who children with sensory issues (or have sensory issues yourselves!) will understand the difficulty in finding the right clothes. Clothes without tags, or that aren't a certain fabric, or that don't have seams that lay a certain way. We've got M comfortable with wearing long-sleeved shirts as long as they're thin and not certain fabrics…no sweaters for this boy! It's impossible to buy pants for my husband because he has very specific rules on what he'll wear. Socks can be hard, too. J just flat out refuses to wear them unless he has shoes on, and M has to have the heel line up just so, or otherwise move the heel to the top of his foot. I count ourselves lucky because I know some children who won't wear anything with seams at all.
Enter SmartKnitKIDS! They sell seamless clothes for sensitive people. You can find socks (even AFO/KAFO sizes), underwear, bralettes, and compression t-shirts. Socks come in adult sizes as well. When the company offered me a chance to review some socks and offer all of you a giveaway, I jumped at it!
I selected a pair of crew socks (in black) and a pair of ankle socks (in blue). Both of my boys were able to try on both types of socks. Note: sizing is not consistent between types of socks, so be careful when ordering. For example, the boys were a large in the crew sock, but a medium in the ankle sock.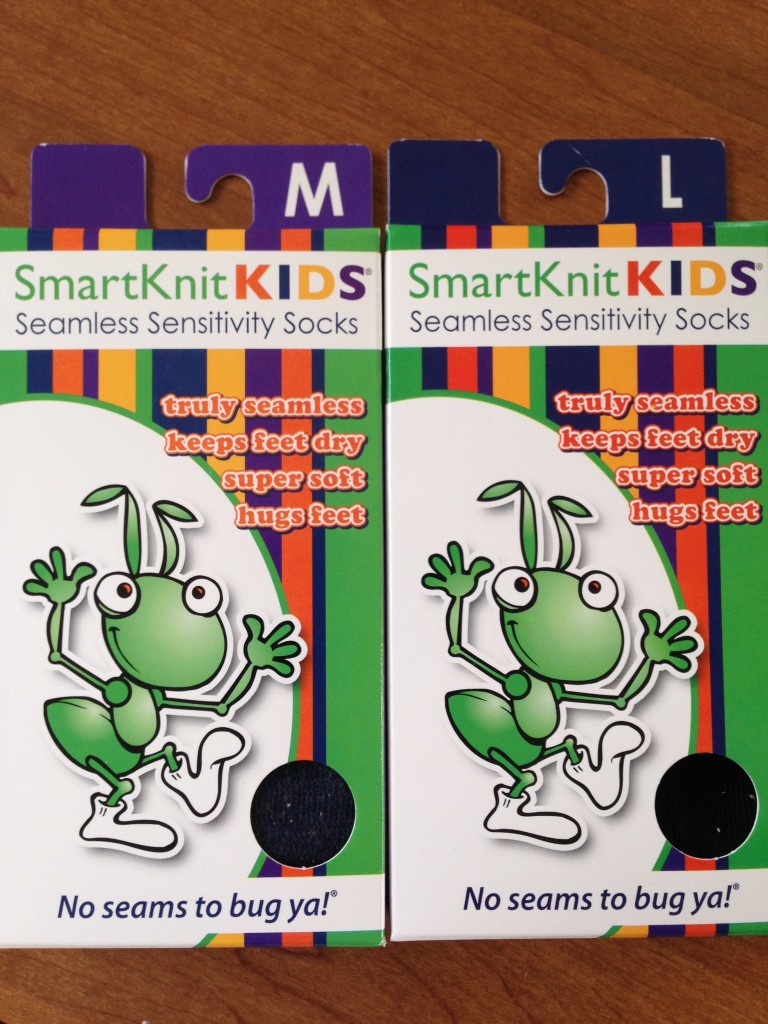 The socks arrived within a few weeks and the boys argued over who got to try which first. J didn't keep his on all day, but it was better than with his other socks. M loved his and even wears them to sleep.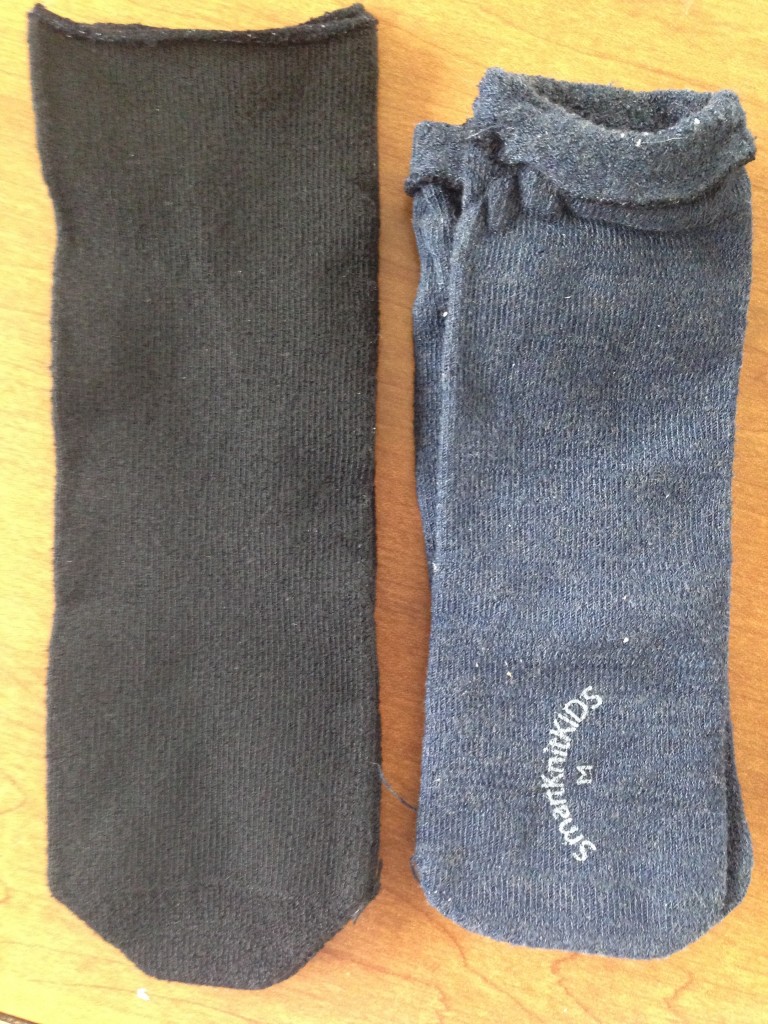 The socks held up well in the wash too, which was a concern for me. I thought they might stretch or sag, but so far they look great, same as when we first opened the package! The overall material is thicker than on the regular socks we've purchased for the boys. So, while the cost for SmartKnitKIDS socks is definitely higher than for other pairs, they should last longer.

This last bit may just be of more interest to Marfan families, but when J is up with terrible ankle pain in the middle of the night, thick socks really help. We'd just had the one pair of AFO socks that came with his AFO, but the crew socks are thick enough that they should also help with this pain.
Final verdict: These are a quality-made product that I definitely recommend if you or your child has sensory issues around seams!
Now, you have a chance to win a $25 gift card to SmartKnitKIDS! This giveaway is open to residents of the US and Canada ages 18 years and older.