Last night Baby J had a sleep study scheduled. I'd been having a really difficult day and was dreading it because of how little he actually slept last time. The purpose of this study was to determine what level J's CPAP needs to be on. Right now he's on a 4, which is the lowest setting, but his pulmonologist is fairly certain that is too low a setting for the severity of his apnea.
Things started out ok enough. As you can see, J was happy to be there.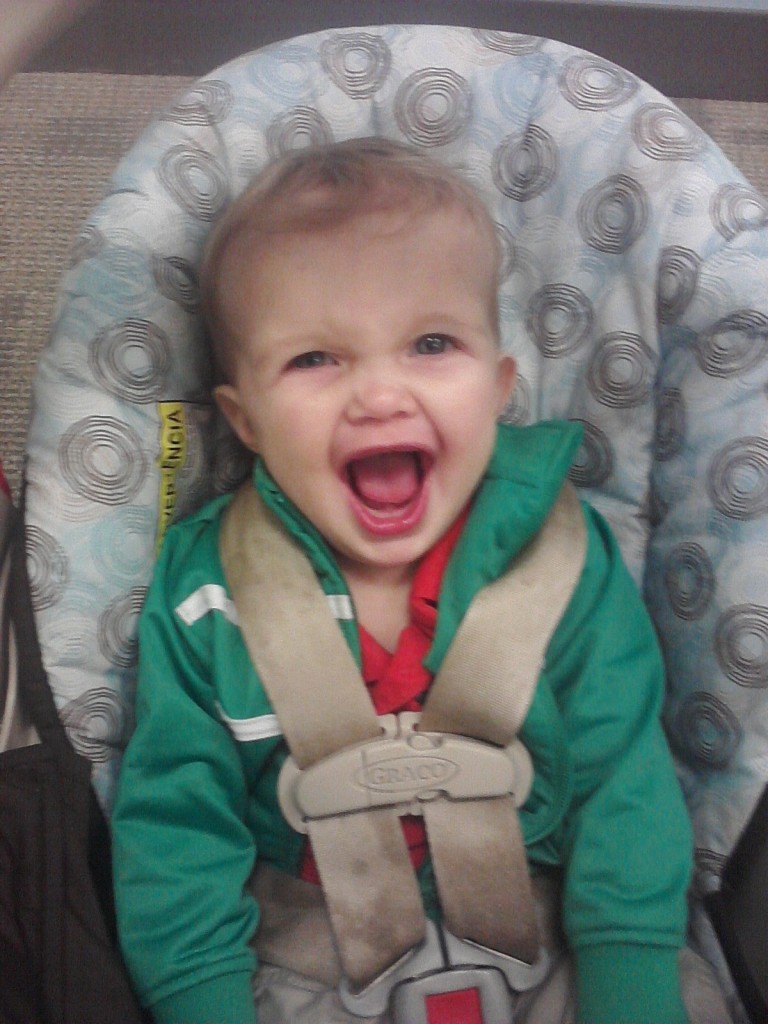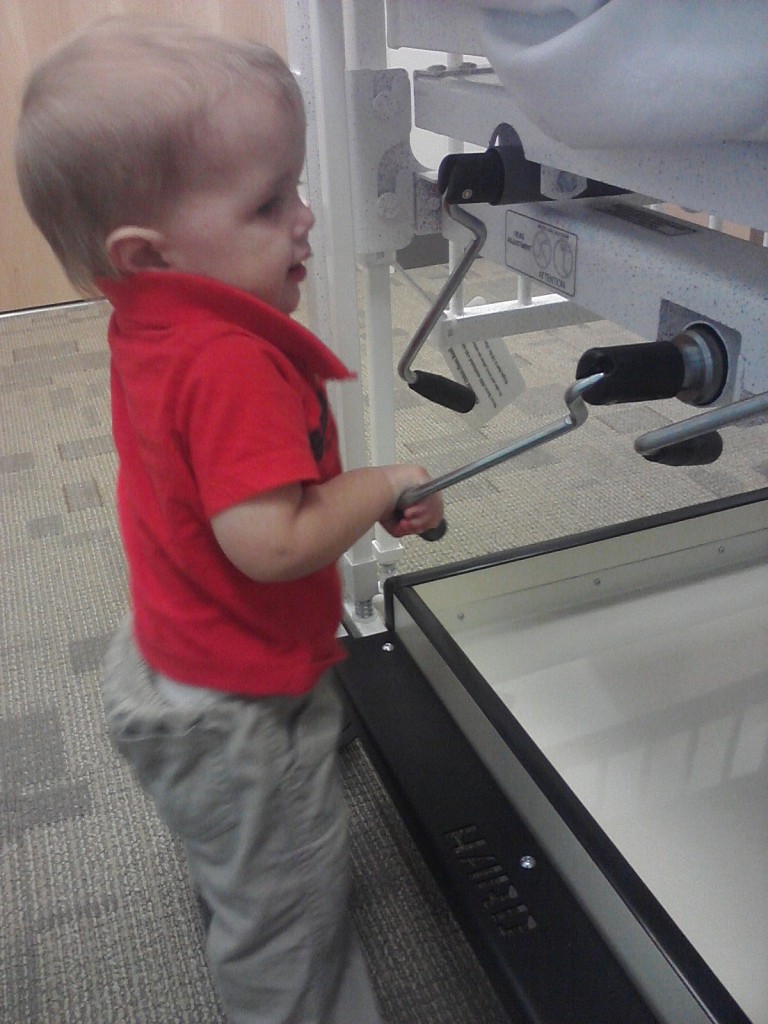 That didn't last long once the tech started getting him hooked up to everything though.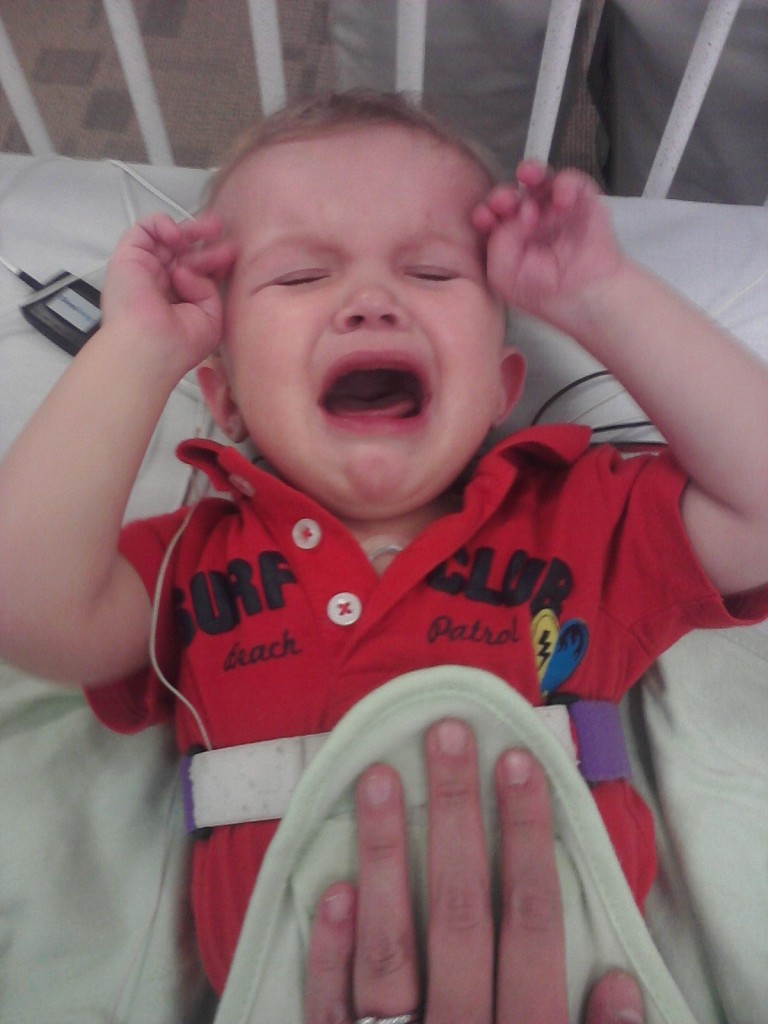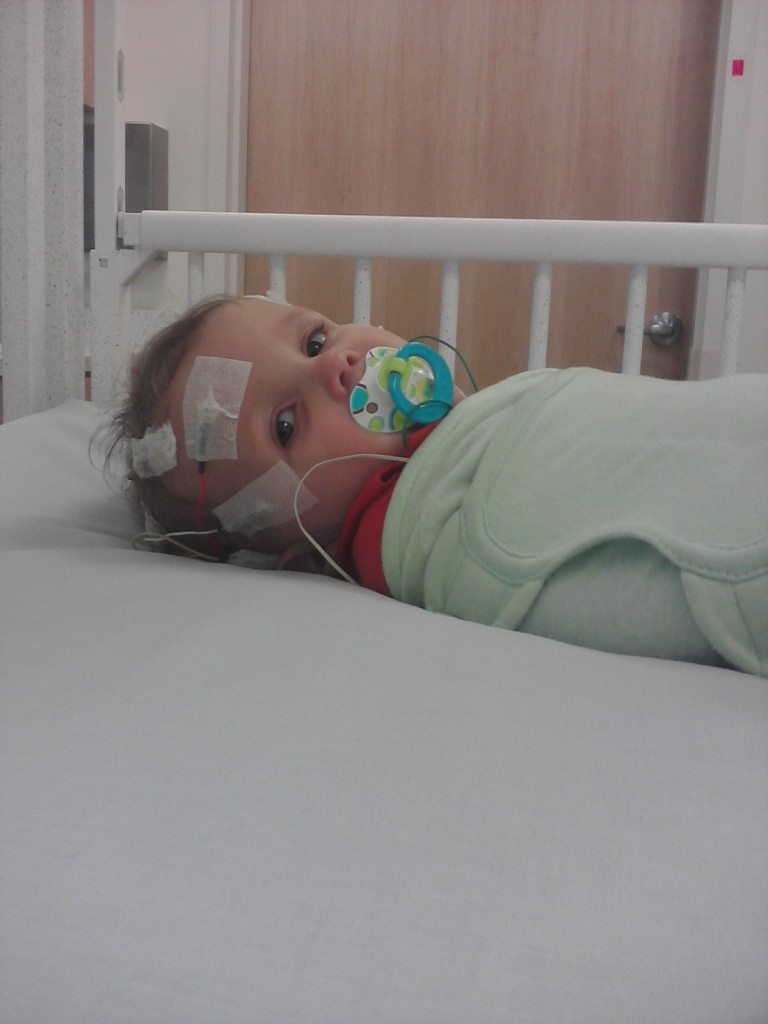 Now, I knew having a pulse oximeter was an important part of the study. We've had a lot of trouble getting J's to stay on him at home, but a reader recently suggested using medical tape to wrap it around his foot, where it can't be kicked off. I asked the tech to do this but he refused, instead wrapping the sensor around J's toe.
Surprisingly, it didn't take me too long to get J to sleep, even being unable to nurse him well because of some of the short cords. I gathered up my laptop, phone, and a snack and headed to the parent lounge. No sooner did I get into the hall then the tech stopped to tell me that – SURPRISE! – the pulse ox sensor was off J's foot and he'd have to place a new one on his finger. Also, there was a leak in the seal of the mask and it needed tightened.
None of that went well. Sensor ended up back on the toe when the finger didn't work. The mask was tightened and J was even more angry. I don't know how long I tried to get him back to sleep. I'd heard about kids getting so upset they threw up, but I guess I viewed that as an urban legend…until tonight.
I called the tech and informed him we'd be going home, he helped me clean J, and we were walking in the apartment before 10 pm.
I don't blame the tech for Baby J getting so worked up, but I am frustrated he wasn't willing to work with me on getting the pulse ox to fit. And now, I doubt we'll be able to schedule another sleep study before the move, since they're only on Sundays and I'm not doing Christmas or New Years. This is frustrating because the longer J isn't on the right setting, the more stress his aorta is under. On the flip side, I'm planning to night wean him as soon as we're settled in the new house, so being night weaned may make any subsequent sleep studies easier…?
Sigh.