Sarah is a good friend of mine, whom I met online. Her son Danny is adorable, as you'll see below!
I am very honoured to have been asked to post on Maya's blog. Her help and support has
been invaluable to me during these last difficult few months.
My name is Sarah; I live in the UK with my 14 year old daughter Amber and my 8 month old son Daniel. I was very excited when I was taken into hospital to be induced when pregnant with Daniel as I could not wait to meet him. Daniel was only 5 days from his due date and I was suffering from pre eclampsia, so it was felt to be the best option and after a fairly straight forward labour I had my beautiful baby boy and spent most of the first 24 hours just staring at him in complete adoration, in my eyes he was the most perfect thing I had ever seen, I said to the midwife that I cannot believe how lucky I am. I was completely oblivious to the concerns and fears of the midwives and doctors around me about some of Daniel's unusual features; I did not see his unusually long fingers, cloudy lenses, misshapen skull, limb contractures, "beaky nose" and low set ears. These features that to me were my perfect little boy were later explained to me as "dysmorphic" and an indicator of a genetic disorder.


When he was 2 days old the paediatrician gave me the news that they were concerned with Daniels features and that they indicated a possible genetic disorder. They suspected Marfan Syndrome. I had never heard of it before and was very frightened for my baby, I had no idea what to expect. Further testing confirmed he has scoliosis, diaphragmatic eventuation, mitral valve leakage and a severely dilated aortic root. I was very confused about what all of this meant and then during one of his many x-rays, the radiographer was discussing Daniel with some students and she said to the students that Daniel would not reach 2 years old. This is how I found out that my son has a serious form of Marfan Syndrome, the neonatal form, which was confirmed with genetic testing. He has a spontaneous one off mutation.
To say I was devastated probably doesn't even come close, I survived rather than lived the next few weeks of my life with very little idea of where to start with dealing with it all, I had virtually no support from the medical community, they had little information on Marfan Syndrome and classed Daniel as terminal, as far as they were concerned it was a matter of time and "keeping him comfortable".
Fortunately after alot of sleepless nights scouring the internet trying to find answers, I had the courage to connect with other people through The National Marfan Foundation. Thankfully this led me to connect with many other parents of children with this particularly severe infantile form and they had positive stories to tell and also their children were older than the scary 2 year mark I now feared so much and their children are doing well. I also connected with other parents who have babies near Daniels age who were going through the same scary rollercoaster as me and understand all too well how I am feeling.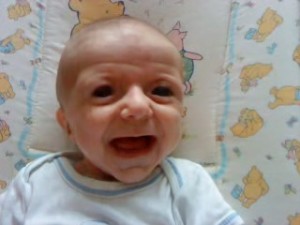 I also met Maya who I can quite honestly say I would not have been able to get through this past few months without either from an emotional or from a practical point of view as she has connected me with many medical sources, including the amazing Dr Dietz, who is now able to pass his expertise onto Daniels doctors in the UK. This has led to Daniel now being put on irbesartan. At his last echocardiogram his aortic root had not only stopped growing for the first time but also had amazingly reduced in size! His cardiologist was as amazed as me!
Daniel is currently doing well and thanks to the National Marfan Foundation I now have the right information, contacts and resources to provide Daniel with the best and most up to date care and treatment. This has given me the best present anyone can ever ask for, it has given me hope!
Thank You,
Sarah, Amber and Daniel
Please, support the NMF by casting a vote for them in the Chase Community Giving Campaign. Any money won will go to support programs that promote early diagnosis.