In the receiving line at our wedding reception, one of Mark's labmates informed us that his chip was complete, meaning he just needed to finish his thesis to graduate with his MSE. We'd been afraid there would be a problem that would delay the completion and Mark and I would need to live apart for a short time. I was so overjoyed at the news that I flung my arms around the guy and jumped up and down.
However, upon returning from our honeymoon we'd learned the labmate had been mistaken. And what we'd thought would turn out to be a month or two of separation turned into 6. I needed a ("new-to-us") car.
Enter The Purple Car.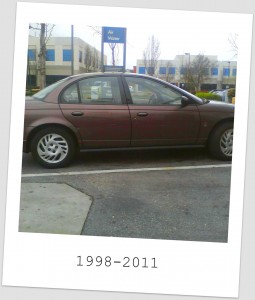 Original name, I know. I called the shade "iced plum," Mark thought it was brown, and the two together made purple. It made a lot of trips from Columbus to Cleveland the first part of our marriage. When I was pregnant with M and Mark moved to California, The Purple Car stayed in Ohio with me. We drove M home from the hospital in that car, and Mark's company paid to ship it cross-country when the baby and I joined Mark. For the past 2 years it's been the car he's taken to work.
But over the past 18 months the car has had more and more trouble and we knew the end was near. When it failed the smog check last month, it was official: time to retire The Purple Car.
On Saturday we took it to its final resting place at the junkyard. With all the recent rain the parking lot was entirely flooded, so I stayed in my car with the boys while Mark processed the paperwork and turned his vehicle.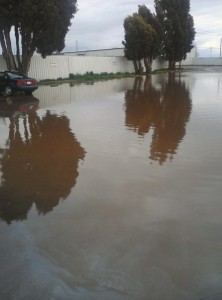 Farewell, old friend!