It's not often that I get excited about a restaurant. I'm just not a foodie. Last week though, while Mark's family was visiting, we happened upon a restaurant so funky and delicious (and GLUTEN FREE!) that I asked the owner if she'd mind if I wrote a review about them.
Hot Spud just opened in San Francisco a few weeks ago. It's "gourmet fast food" (think a Chipotle-like set-up) and specializes in baked potatoes. My first thought, I'll admit, was "booooring." I don't like baked potatoes. In my mind they're dry, hard, boring and only worth eating if you heap on obscene amounts of cheese (obviously this says something about my cooking). So when Mark asked us to park the car and go there for dinner I was a little less-than-thrilled, but of course it's so rare that we find somewhere that is a pretty sure gluten-free bet that I wanted to make him happy.
I was SO wrong. Not only was the food amazing (I probably could have eaten TWO potatoes), but the people who work there are genuinely cool. Mark explained that he was looking for any gluten-free menu items and was immediately introduced to the woman who started the restaurant. She has a wheat allergy and designed Hot Spud with that in mind. Everything is gluten-free except the croutons and tortillas for the salad and two of the dessert offerings and those are kept separate so that for once, we didn't have to worry about cross-contamination.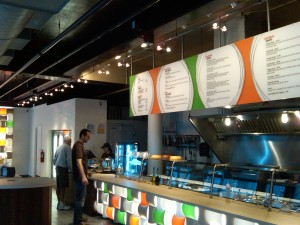 The potatoes are cooked while you wait. Each potato is first mashed in the shell with cheese, salt, and butter. Then you have the option of customizing your potato with 4 veggie toppings and a sauce (only at Hot Spud does bacon count as a veggie!) or ordering a pre-designed speciality. These range from your basic meat offerings (chicken, steak) to the more exotic, such as The Wharf: crab meat, lemon beurre blanc sauce, corn, red and green onion. You can pay extra for additional meats or veggies.
I played it safe with corn, bacon, and green onion but I wish in retrospect that I'd been more daring. I loved every single bite but I bet peas and chicken would have been great additions. In any case, my potato was anything BUT dry, hard, and boring. My brother-in-law ordered a spud with grilled steak, mushrooms, and BBQ sauce that he said was excellent. I MEANT to take pictures but we all ate too fast so by the end all I had was this: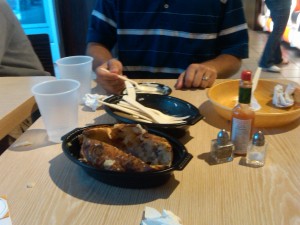 In addition to the spuds, Hot Spud offers various salads (dressings are gluten-free! Hooray!), soups, and desserts. Mark really enjoyed the burnt rice pudding. They do serve alcohol as well, including wine. The only thing I'd change would be for them to also offer fountain drinks (sodas are bottled and canned).
I have never been so excited about a restaurant before! Those of who you have celiac or live with someone who does can understand the thrill in coming across a tasty, affordable restaurant where there's more than one or two things you can order and you don't have to worry about the food being contaminated. We've run into trouble at other places that offered so-called gluten-free menus in the past and you will not have that problem at Hot Spud. It was a relief to watch Mark enjoy a meal out stress-free!
You can bet any time we're in San Francisco that we'll be paying a visit to Hot Spud!
If you're interested, you can find Hot Spud on Twitter, on Facebook, and on their website.
*I was not asked to provide this review. I am doing it simply because we all loved the restaurant and I wanted to spread the word to other gluten-free families.