I had the opportunity to review the Simple Wishes hands free pumping bra and I'm SO excited about this product! See, having Marfan can bring all kinds of fun skeletal changes, one of them being an indented chest. You might not realize it, but having a chest that turns inward makes it really difficult to find a good bra. I was worried but hopeful that the Simple Wishes unique fitting system would work for me. It did so well that I've even used this as a regular bra, not just one that I strap on when I need to pump! I didn't fall out, the bra stayed in place, and I felt supported: success.
What makes the Simple Wishes bra so unique is that it's incredibly customizable. It comes in only 2 sizes (xs/s/m and l/xl/xxl), because each bra comes with a zip-in extender for the front and the back has velcro at both ends so you can tighten or loosen it at will. Unlike many nursing bras out there, this one fits up to size 48 J. I fit into the smaller of the 2 sizes, but was a little borderline. When I first tried on the bra I was a week postpartum and it didn't fit. However, your ribs shrink in the month following birth so even though my cup size didn't change, I did go back to my pre-pregnancy width and then the bra fit just fine. Because of this, I'd recommend buying for your pre-pregnancy band size if you're ordering while pregnant.
Prepare to spend a few minutes figuring out your best fit the first time you wear this bra. Personally, I prefer using the zip-in front insert and keeping the back tighter, rather than lengthening the back but going without the insert. There are several possible ways the bra might fit you well, but it's worth it to take the time to find what is the best.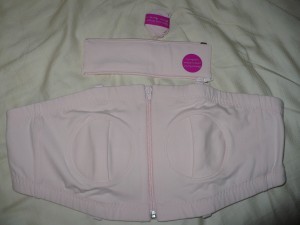 When it comes to pumping, going hands-free is every bit as awesome as I imagined it would be. Take the other morning, for instance. J had finished nursing but was a little fussy and M was hanging out on our bed. During times like these when I haven't used my hands-free bra, I've invariably spilled milk on myself. This time I could comfort the baby and keep M from running up and down the bed, all while pumping. The seal on the bra is tight: no worries about losing suction while pumping! I found it easier to pull apart my flange, suction it to my skin and pass it through the bra, as opposed to trying to pull apart the leaflets of the bra to accommodate the largest part of the flange.
I also tried out nursing in this bra. In case any of you want to use this bra as a regular nursing bra as well, I suggest using the zip-in insert. That way, you can unzip one side at a time, just like you would unclip one flap of a traditional nursing bra at a time. Easy!
I highly recommend this bra to anyone considering pumping breastmilk for their baby. It's affordable, comfortable, and really works!
Find them: Facebook and Twitter.
Buy It:
The Simples Wishes bra is $39.00 and can be purchased online or at a store near you.
Win It:
Simple Wishes is graciously offering one of their pumping bras to a reader of mine.
Mandatory Entry:
Visit the Simple Wishes website and leave a comment here with one thing you learned.
Optional Entries:
1) Follow Simple Wishes on Twitter (make sure to leave your Twitter handle in the comments)
2) Tweet about this giveaway, worth one entry per day: "#Win a @SimpleWishes_ hands free #BFing pumping bra from @MarfMom http://bit.ly/e9B5hh. #Giveaway ends 2/10." Make sure to leave the link to your tweet in the comment
3) Follow Musings of a Marfan Mom on Google Friend Connect (look for the box on the right hand side of this page)
4) Leave a comment with a breastfeeding resource.
Remember, you must leave a separate comment for each entry and the mandatory entry must be first, or all other comments will be deleted. Please do not hit "reply" to your original comment either…do a totally separate comment for each entry. This giveaway is open to residents of the USA and Canada and runs until 11:59 pm PST on Thursday Feb. 10th, 2011. A winner will be selected using a random number generator and will be notified via email. S/he will have 48 hours to respond or another winner will be chosen.
* I received one hands free pumping bra to review, and one for a reader. No other compensation was provided. All opinions are my own.