I love award show fashion! I've been watching (and commenting on!) red carpets for years, and I decided it's finally time for me to do a little blog commentary of my own.
First up, our two red carpet hostesses:
Giuliana Rancic in Tony Ward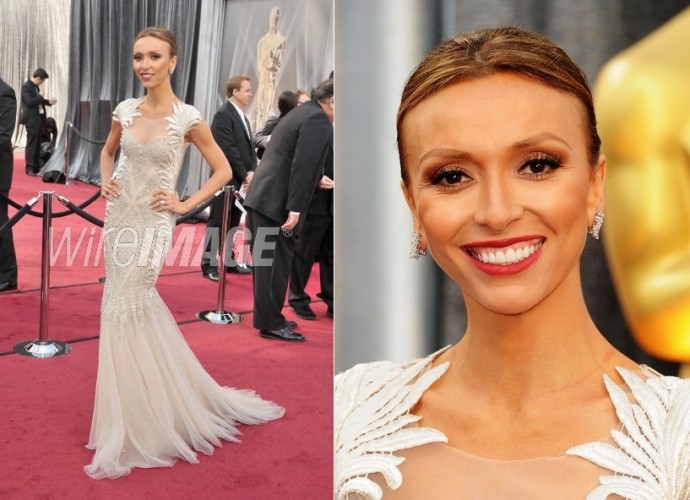 Her dress was fine. I'm not crazy about the sleeves but they do make the dress interesting. Her hair was all wrong though! Her forehead is not built for a style that is so severe. She should have added some volume or done a side part.
Kelly Osbourne in Badgley Mischka


I'm not going to comment on her hair color, but overal I think Kelly is developing a nice sense of style. A big change from a few years ago! The curls in her hair were pretty, and I liked her dress, particularly the shoulder detail.
And some of the actresses:
Cameron Diaz in Gucci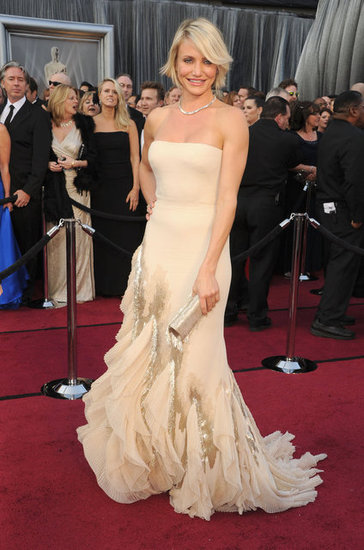 Normally I don't like feathered skirts, but I loved the asymmetrical design of Cameron's! Makeup and jewelry were great too. I think her hair looks messy in this photo, but it looked better on TV. My only complaint is that she needs a (better?) bra.
Ellie Kemper in Armani Prive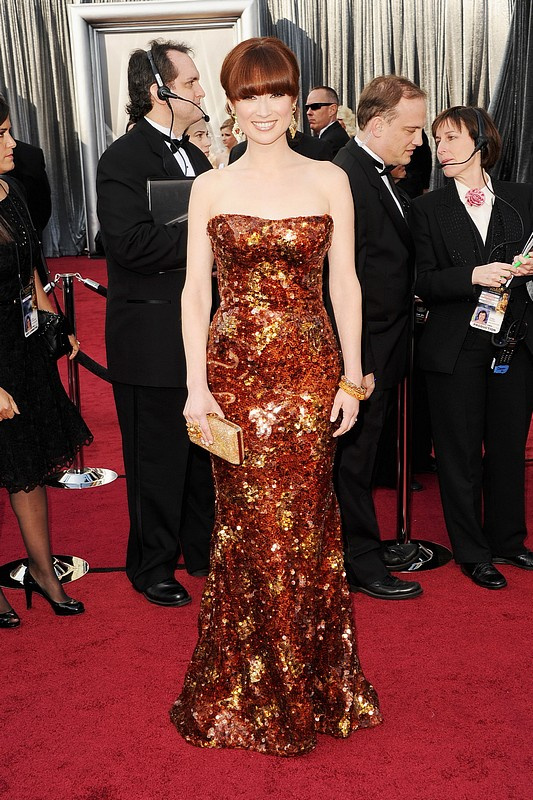 Loved everything about this dress, except that the top was too big on her. E! was interviewing her stylist at one point and I really wanted Giuliana to ask "why did she pay you to style her in a dress that didn't fit?" but she didn't, because no one from E! ever asks good questions.
Emma Stone in Giambattista Valli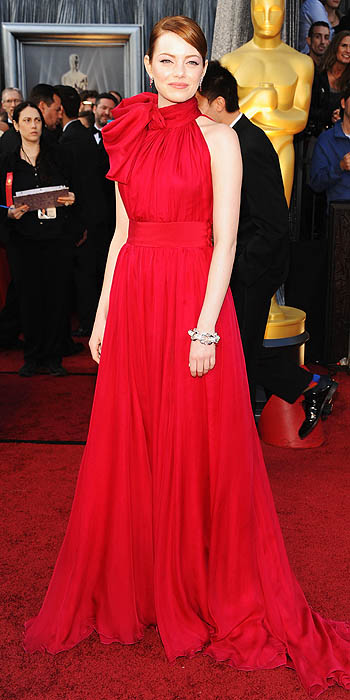 Why Emma? Whyyy? You're a pretty woman and you generally dress smashingly, but you've come dressed with a giant bow coming out of your neck like a goiter! Seriously…it's a cross between those terrible bows of the 1980s and something a parent would tie around a puppy's neck. Besides that, the dress is fine. I like the hem.
Glenn Close in Zac Posen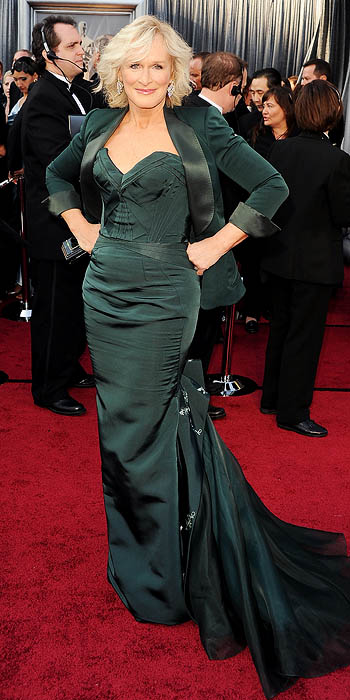 This is all sorts of wrong. I saw a lot of people complaining about the color on Twitter, but that doesn't bother me so much. A suit jacket? Over a ball gown? No. It does not work. The dress bunches in your midsection and the whole tail train doesn't work, either.
Gwyneth Paltrow in Tom Ford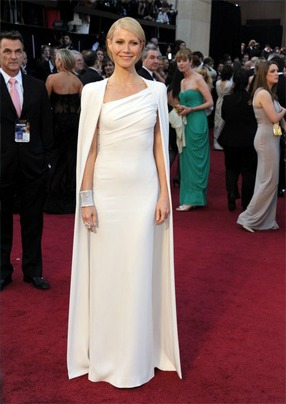 The dress itself isn't bad, just boring. I feel like I could find that on the rack somewhere for prom or a wedding. I feel like she didn't even try with her hair though (hard to tell here, but it was a loose ponytail), and the cape is too dramatic for my taste. She's always come across as being full of herself to me and the cape just seals the deal.
Jessica Chastain in Alexander McQueen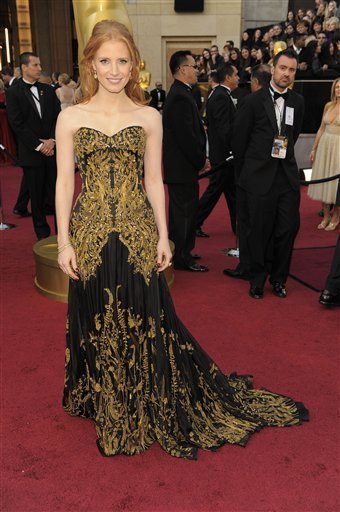 I love everything about her outfit: hair, makeup, dress, accessories. The print was a fashion risk but it paid off. One of the best dressed of the night.
Jennifer Lopez in Zuhair Murad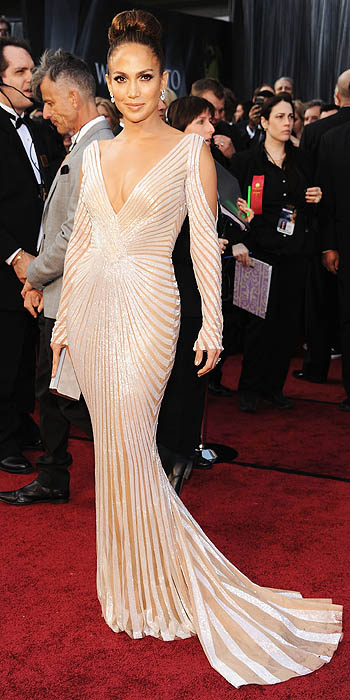 JLo, we get it. You think you're all that and want to prove you're still sexy, even in your 40s. But you know that quote you read last night, about "a dress should be tight enough to prove you're a woman, and loose enough to show you're a lady?" It's time to take that to heart! This dress was entirely inappropriate for the Academy Awards. Those near nip-slips are better suited for the Grammys.
Kristen Wiig in J. Mendel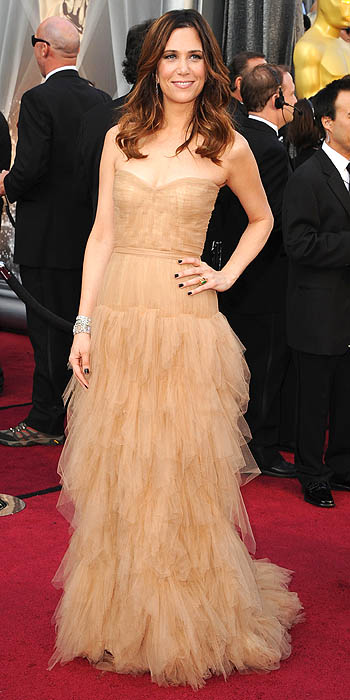 Kristen, Kristen. Color is your friend. All of your dresses this season have been washed out. And black fingernails? What are you…12?
Melissa McCarthy in Marina Rinaldi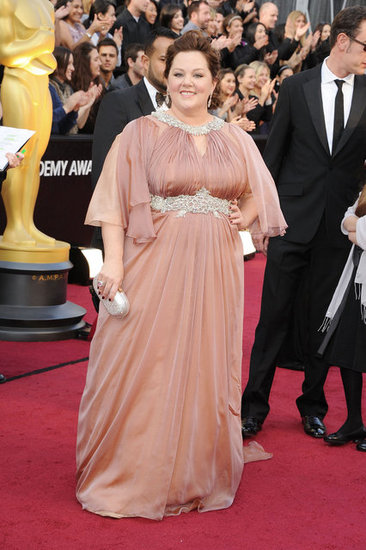 Finally! Melissa is dressed in something that doesn't make her look 60 years old! I love the sleeves. The color is great too…the different tones really make the dress. I just can't make myself like the collar though. Jury's out on the hair.
Meryl Streep in Lanvin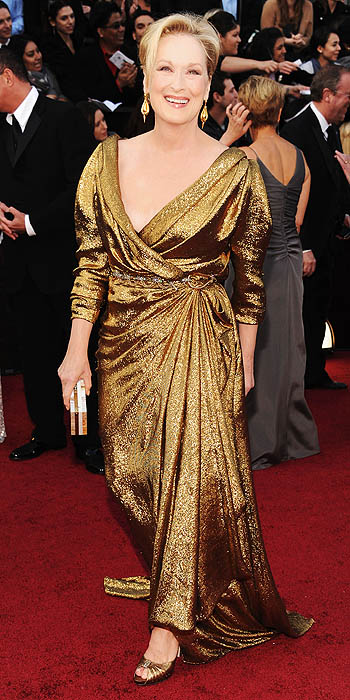 I love Meryl. She's a goddess. And this dress is better than her other gowns this season, that's for sure. That said, there should be some sort of moratorium on gold dresses at the Oscars. The sparkly dress + matching shoes, purse, and earrings is just too much.
Michelle Williams in Louis Vuitton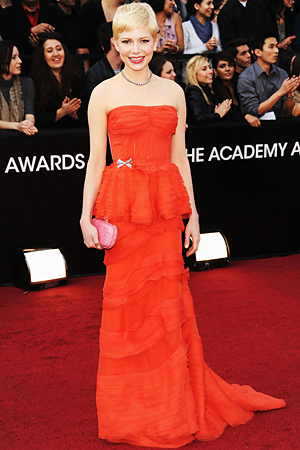 The coral color was ok, but other than that, this dress is a no for me. There is too much going on and it comes off as a pre-teen outfit, not a Best Actress Nominee.
Natalie Portman in vintage Christian Dior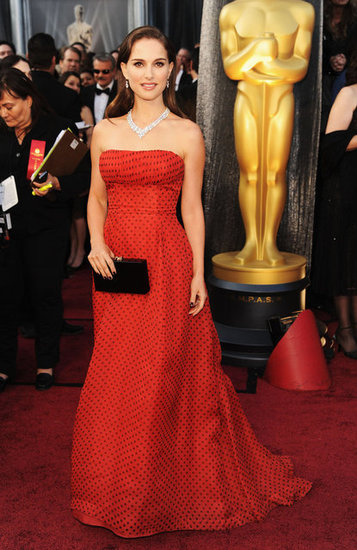 At first I didn't notice the polka dots here, but I still love it. Dress, accessories, hair: no complaints here!
Octavia Spencer in Tadashi Shoji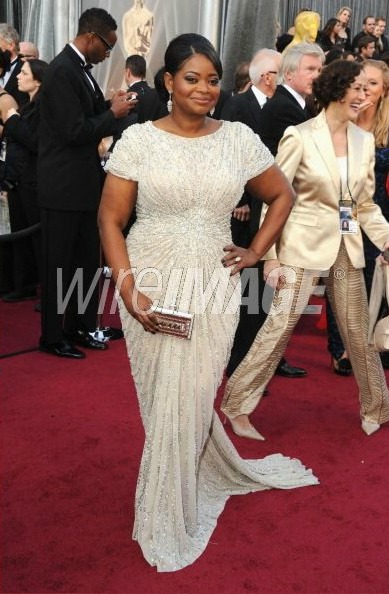 Flawless (well, nearly). My only complaint is that it looks like a combo of her first two dresses. Other than that though, it's a beautiful dress that flatters her. She'll be on every best dressed list!
Penelope Cruz in Armani Prive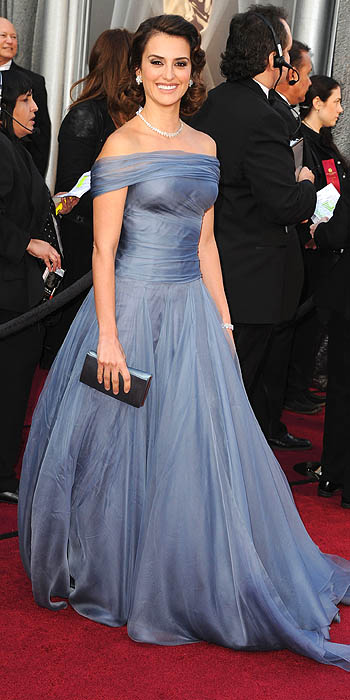 Looove this! Another one of my favorites. And just shush all you who hate her hair…I think it looks great, very Grace Kelly.
Rooney Mara in Givenchy Couture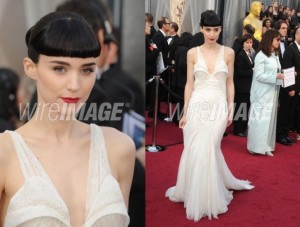 Awful. What's going on with the top? It can't decide if it's strapless or a halter. It looks a little like a swimsuit. The knot at the back of her head needs to go, too. The only positive is that she wore a color other than black.
Shailene Woodley in Valentino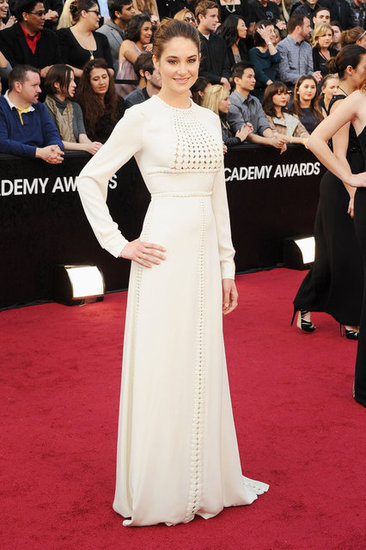 Oh dear. I want to say "Beam me up, Scotty." This dress just reminds me of some sort of space/sci-fi thing. Her hair isn't bad on its own, but combined with that dress also screams "school marm."
Stacy Keibler in Marchesa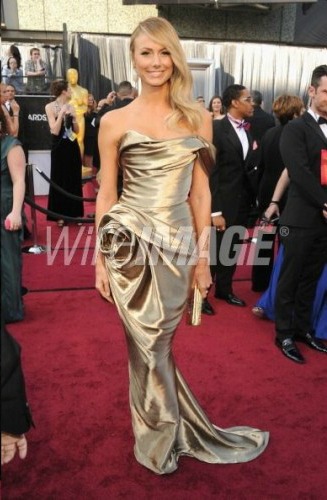 This woman knows how to do a red carpet. THIS is how a gold dress should be done, Meryl. Mixed feelings on the giant rose on her hip, but overall the dress is gorgeous. Hair and makeup are great too. I guess George got to take 1 golden statue home last night…
Viola Davis in Vera Wang


Definitely on my Best Dressed list. The green is perfect on her. JLo: this is how you do daring cleavage.
Who were your favorites and least favorites of last night?