You all know the book Alexander and the Terrible, Horrible No Good, Very Bad Day, right? Well, I'm just grateful that I had a camera on hand to document some of mine.
Sunday morning I wake up not feeling well, but I'm pretty sure it's bad karma to bail on church when you're supposed to teach the women's Sunday school class, so I drag myself out of bed. Mark had to be at church early for choir practice so it was up to me to get myself and Menininho fed, dressed, out the door and in the pew on time.
Usually this is not a huge deal.
My first problem was bananas for breakfast. Instead of eating them, my toddler mashed them up in his hands, until they made a chunky shampoo, which he then applied to his hair and eyebrows, generously.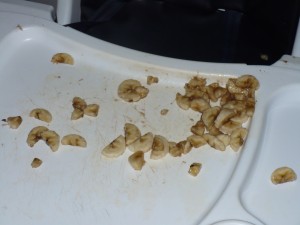 AFTER my attempt to clean him, he still looked like this.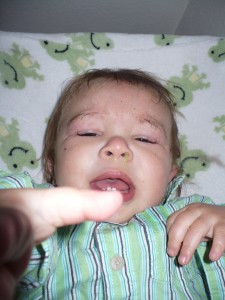 When I pulled his little church suit out of the closet I saw it was covered in cat hair. Do not ask me how a suit hanging in a closet was covered in Cat. Found him a tight pair of pants and too-big shirt.
Throughout this Menininho is screaming, of course. My husband calls to tell me he forgot his rice cake for the Sacrament, so could I please grab him one (having Celiac, he can't take the piece of bread).
Now late, I realize I'm running around without my brace or shirt on. Turns out the only shirt I have clean shows all the straps on my brace through it, like I have tentacles reaching out from my midsection.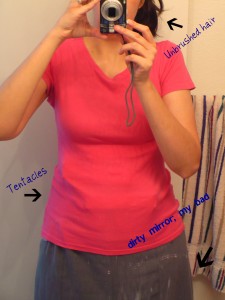 On the way out the door, carrying the baby, diaper bag, rice cake, husband's scriptures, my bagel, and the keys, I drop said keys no less than 3 times.
We get to church just as they are finishing the sacrament. I set the baby down in the aisle and decide to walk very briskly up the stage to where the choir is to pass Mark his rice cake. Maybe not the best choice? Oh well.
Menininho and I spend the rest of the service in the foyer with other fidgety kids. Then he somehow cuts open his top gum, screaming hysterically and bleeding all over both of our shirts.
At that point I just handed him to Mark and sent them both home. All that is worth a do-over, don't you think?