Thanks to MamaKat, I learned this week is Teacher Appreciation Week. That means I should probably follow prompt #2 of her weekly Writers' Workshop and write about an awesome teacher I've had. I could pick the easy way out and write about those 2 years where I had mom as a teacher and combine TAW and Mothers' Day into one, but on my sleep deprived brain all I can think about is that time Mom showed my baby picture to the entire class.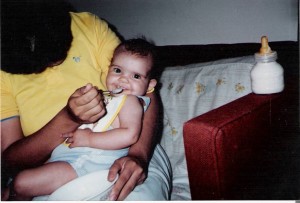 I know I was a pretty cute kid, but still, in 7th grade it's ALL awkward.
So, I'm writing about my 1st grade teacher, Mrs. Lopez. My class was her last class before retirement. She reminded us of this often and insisted we were her favorites. Mrs. Lopez let me skip recess every day to read ahead in the reading test packets we had, at least until my parents found out and insisted she make me get some sun and exercise. At the end of the year, when the school got rid of our texts (which had been around since the 50s, no joke), she gave me some books to keep, as well as her handmade phonics chart because I told her I wanted to teach my brother to read. Mrs. Lopez was also famous school-wide for her talent to painlessly pull out teeth. Literally, kids from all over the elementary school would knock on the door in the middle of class, she'd grab a tissue, reach into their mouths, twist her hand, hand them their tooth, and go back to teaching. How cool is that?
While I was sad to move onto 2nd grade (especially since I had the equivalent of Mrs. Trunchbull as a teacher), I maintained a relationship with Mrs. Lopez. Sometimes Mom and I would pass by her house on the way home from church, and occasionally would just drop in. One time, Mrs. Lopez gave me a pink troll necklace and a white fuzzy "cat" (it was totally a Pomeranian dog, but I insisted for years to Mom that it was a kitty, just because Mrs. Lopez had said so).

When it came time for me to plan my high school graduation party, I looked up Mrs. Lopez in the phonebook on a whim and called to invite her. Not only did she remember me, but she came! And she gave me the most beautiful box, which I keep some of my treasures in even now, 7 years later.
I wonder what she's up to these days, if she's still well and living in her same house and spending time with all her grandchildren and great-grandchildren. I'm grateful to have had such a neat teacher who fostered my love of reading and treated me like family.
Who was your favorite teacher?