I'm out of town on an unexpected trip. While I'm gone, my friend Julie is kind enough to share with us her birth story. It will be presented in 3 parts. Thanks, Julie!

The Story of Max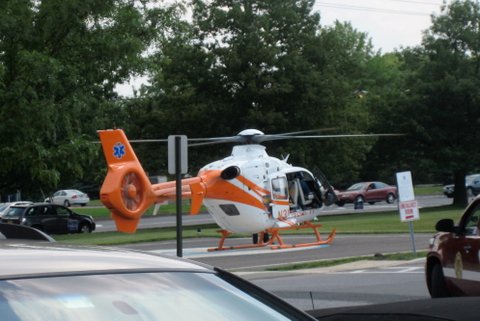 By the time the helicopter people came, there were many medical personnel people swarming my room. Pete kept leaving the room and returning with even redder eyes, my nurse was sobbing and Dr. S even had tears in his eyes.
My veins wouldn't cooperate and I needed an IV directly in to my artery. It hurt. I just tried to breathe. But they couldn't find a vein and my doctor finally asked them to please just take me to the hospital already.
I got bad vibes from the woman who would be in charge of taking me in the helicopter. She was cold, she didn't care. You can tell very quickly about these things when you are sick.
In order to get me in to the helicopter they had to lay me completely flat on a stretcher and push me up in to a very small space. The problem was that the pain was excruciating if I laid on my back. But I had to just handle it until they got me in the plane. God really helped me get through every obstacle with a strange calmness. I had no choice and I knew it. Either just deal with it or have the bomb explode and kill my baby and myself.
The woman sat next to me and said while we couldn't communicate now, when we were up 500 feet, we could talk through the headphones on my ears. But I never was able to hear her. She told me if my pain got worse to notify her immediately. But it did and I couldn't. So I just prayed and breathed and meditated and told myself we were almost there.
However, when they finally took me out of the heli, we weren't at a hospital. An ambulance was waiting for me in a parking lot. I just needed this to be over. I couldn't believe there was going to be more traveling involved.
While in the ambulance, the woman start edtalking "career" with the other ambulance women. "Oh I worked there too, did you like it?" It occurred to me that we weren't moving and that the sirens weren't on.
"Are you going to use the sirens soon?" I said.
The driver then said "Oh. Is this life threatening?". The cold woman non-chalantly said yeah. I was then told that there was a lot of traffic but they'd try to move along. And that's when we finally started moving. It blew my mind that I had to be proactive with emergency flight crew. But at least it worked.
Upon entering the hospital I don't remember much. Except for all of the faces clearly waiting for my arrival, the people looking at me with wonder and horror.
This may sound weird but when they wheeled me in the room and the nurses and attending physicially surrounded me, again trying to find my artery for that annoying IV, I couldn't help but notice something. Everyone was drop dead gorgeous. I'm talking like the no make-up needed, hair back in a shower cap perfect faces, model features holy shit beautiful gorgeous. Angels surrounding me gorgeous. I now wonder if I was seeing their true beauty and not what they really looked like or something. They were all glowing.
I then blurted out "Is there a super-model pre-requisite here or something?" The attending, who resembled Denzel Washington, grinned his white pearls at me and slowly said "…What?!?"
I said "well it's kind of rude for me to be hugely fat with pregnancy and with a giant aneurysm in my chest while everyone else here looks like they are supermodels. How's that supposed to make me feel?" The doctor looked at me in shock. "You're funny" he said. I guess I wasn't expected to be joking at a time like this. But it just amused me.
Later I'd find out that the staff at the hospital wasn't only outwardy beautiful, but some of the most truly inwardly beautiful nurses in the world. People who washed you as thouroughly as they would themselves, people who went above and beyond to try and ease your pain. People who just had to meet me and tell me that while their son didn't make it out alive, they were very glad mine did. And then would hand me a gift. I was truly surrounded by angels, everywhere I went, at both hospitals.
My family arrived soon after my arrival in New York. My mom, pale with fear, my niece Becky trying so hard not to show how scared she was, Pete, with his tell tale red eyes yet still showing me only strength and no fear, Ed my step-father trying to hard not to let his tears betray him yet failing terribly, my father-in-law Pat doing a great impression of a cool happy guy with no worries, my mother-in-law assuring me I'd be fine, Becky's fiance looking at me with wide eyes of fear and having no idea what to say….
I felt so badly for everyone. It was harder for them. I was about to just be put to sleep and whatever was meant to happen would. They had to sit through eight+ hours of waiting and worrying.
The doctor arrived. I was told by my OB that he was the best thorasic surgeon in the country. That if he had to send his wife to anyone for something like this, it would have to be him. And somehow my sweet Dr. S was able to get this man to operate on me. Later I would find out from the nurses that everyone was in shock to see this famous doctor at the hospital, in plain clothes on a weekend. This was unheard of. You can read about him all over the internet, here's one of many articles. He is also a beautiful man, with actual rays of light around him (not kidding) and incredibly humble too. This man knows God.
Dr. G very quietly stated the facts. That this was a risky surgery already because I had already begun to bleed. But that the pregnancy made it extremely risky. There was a vey good chance I would bleed out. It would be very hard to get me to stop. He would do the best he can. Then he asked if anyone in my family had a heart problem, as this type of thing seen in a 35 year old was unheard of. That's when my mom said that yes, my father died of a dissected aorta.
I had no idea about this.. I always thought it was a heart attack. This news stopped everything in the room. We were all shocked, all silent. The doctor said "well that explains why you are here today". I felt my world freeze. At this point, I will be honest. I didn't think I was going to make it. I was named after my dad. Jules. I was about to have his fate. He left me behind as a little baby and I was about to leave my baby behind too. This was just what my fate was supposed to be and I suddenly saw it clearly and sadly. This was it. Now all I had to do was be strong for my family and say goodbye. My poor sweet husband was going to be alone with a little boy. I didn't want to leave them. I knew what that felt like. I begged God to please let me stay, please don't let me go. But outwardly, I was quiet. God gave me the grace to just keep it all in and tell everyone I loved them. I just said "let's get this over with."
And then I was in the OR….