You can customize these to say whatever you'd like. We have one in M's room that says his name in bold and "Child of God" in cursive overlaying that. I made some for family with their last names on it and "established" with the year of their wedding (like, "The Jones Family, est. 1992.") My brothers-in-law have boards with their school abbreviation and mascot. The ideas are endless!
This is a picture of the first one I made, a Christmas decoration. It's ridiculously easy to do, I promise!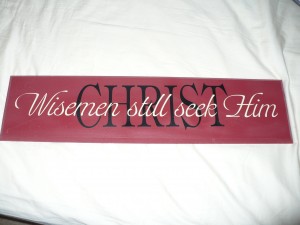 Materials:
1) Vinyl that reads "Christ"
2) Vinyl that reads "Wisemen still seek Him"
3) Board
4) Paint
5) Credit card
6) Epoxy or other spray adhesive
7) Toothed hook thingy (yah, I'm feeling technical) to hang the finished product
Directions:
First, you order the vinyl. Some stores will also sell you the board (which is how I got mine). If not, you can find smaller boards than this at Michaels; I am not sure where to get one my size. I would recommend the online company where I did mine, but she recently closed down

If you buy your own wood, make sure you give the measurements to the person cutting your vinyl so you can be sure your wording is the right size.
Sand down your board if necessary.
Paint the board (make sure to paint the sides, but it's not necessary to do the back) as many coats as necessary. While the paint is drying, prep the vinyl. Do this by firmly rubbing a credit card or similar shape of plastic along the back of the vinyl, always in the same direction. This will help the vinyl separate from its paper all in one piece.
Once paint is dry, carefully adhere the vinyl to it. You can use the credit card to smooth out bubbles. Repeat with the 2nd phrase if applicable.
Go outside and spray the board evenly with epoxy glue spray.
Once everything has dried and set, attach your hook to the back of the board. You're done!
Helpful hint: When using two different lines of vinyl, I highly recommend using the darker color as the bottom line of text.