I made this for dinner last night: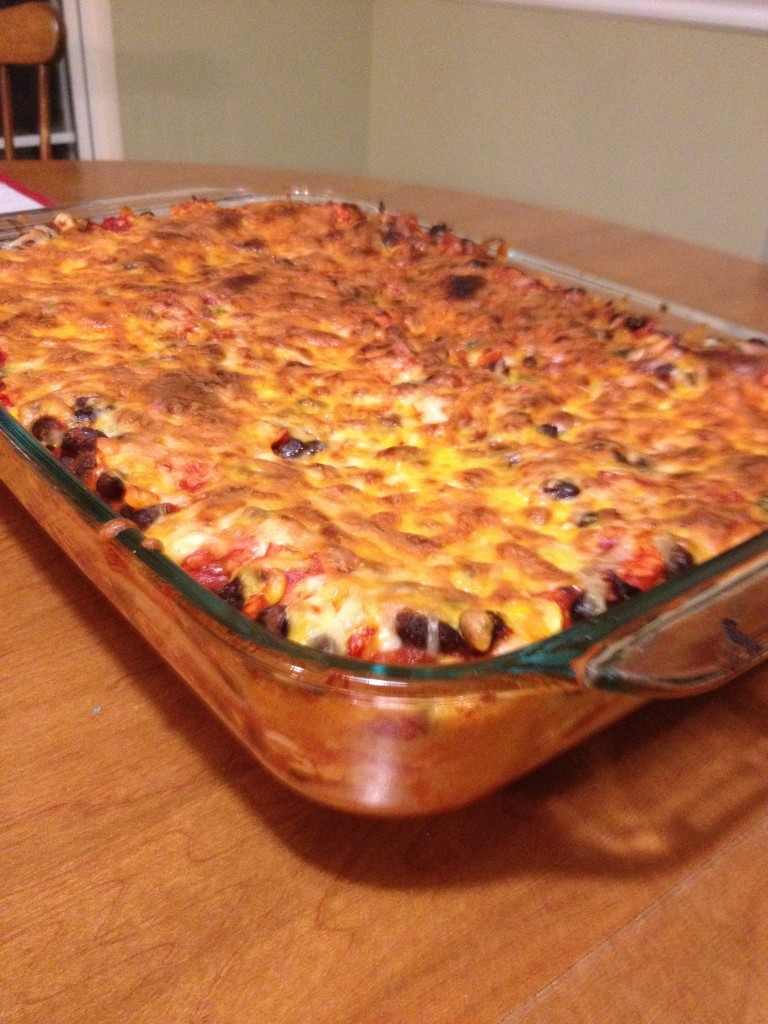 It's Mark's favorite meal and one company has enjoyed time and again, so I thought I'd share the recipe with you today. I only wish the Menininho would still eat it!
Ingredients:
2 chicken breasts
1 (15 oz) can black beans, drained & rinsed
Frozen corn (about 15 oz)
1 (28 oz) can crushed tomatoes
1 (15 oz) can diced tomatoes (optional)
Seasonings (I use 1-2 packs Old El Paso taco seasoning)
Shredded cheese
Corn tortillas
Directions:
1) Pre-heat oven to 350.
2) Cook and shred your chicken
3) Dump crushed tomatoes, beans, and corn in a pan. Heat through.
4) Add chicken and seasoning. Depending on thickness, you may want to add diced tomatoes (with juice) to think it out. Bring to a boil, then simmer for a few minutes.
5) Spray a 9×13 pan. Rip up some tortillas to cover the bottom. This usually takes 5-6 small round tortillas. I start off ripping them in half, then the last tortilla I rip into smaller pieces to fill in any gaps.
6) Lay down half of your chicken/tomato/veggie mix and spread evenly.
7) Sprinkle a thin layer of cheese.
8 ) Repeat with another layer of tortillas, then chicken, and top again with cheese.
9) Bake uncovered for about 30 minutes. If you like a burned layer of cheese at the top, turn the oven to broil for the last few minutes, until the cheese is as dark as you like it.
Enjoy! And it microwaves well the next day, too.