* This review was originally posted on Oct. 12th. Since then I have been invited to host a giveaway, so I'm reprinting the review. Continue reading for giveaway information!
While I'm not someone who insists on organic all (or even most) of the time, I am trying to be more conscious of what goes in and on my son's body. When it's reasonable, we're slowly adding in more natural products, like cloth diapers, homemade baby food, and trying out a CSA. So, when Motherlove Herbal Company contacted me about reviewing a couple of products I was eager to!
Started by a professional herbalist, Motherlove began two decades ago, making it the oldest truly-safe such company. They "follow the Good Manufacturing Practices (GMP) set forth by the AHPA and the FDA" and the "herbal supplements are made in an FDA registered, GMP certified facility." None of their products are tested on animals and they use wind credits and recycled materials. For more information on their green manufacturing click here.
I also love Motherlove's resource link. There you can get information on which herbs you should avoid during pregnancy/which can help with various pregnancy-induced maladies, how to increase your breast milk supply, recommendations for various types of books, studies about breastfeeding, and more. Their blog contains even more information about pregnancy, birth, and breastfeeding. After reading all of this I could tell that Motherlove is a company who truly cares about their customers, making them the type of company I'd be pleased to partner with.
They sent me two products to try out: their diaper rash & thrush ointment and their pregnant belly salve.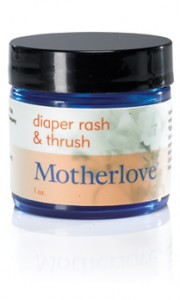 The Menininho has been cursed with super sensitive skin. He has battled diaper rashes almost since birth and Mark and I are constantly trying out new ways to manage them. The diaper rash ointment came just as M. had another rash outbreak: perfect timing! A little bit of this ointment goes a ways: at this rate a 1 ounce jar should last us about a month, using it at every diaper change, every day. It took about a week for the rash to clear up. But, unlike with some other creams and ointments we've tried, the rash didn't get worse (read: begin to bleed) once we started the Motherlove ointment. As long as we used it consistently, the rash stayed at bay. A couple of days ago I stopped using it as an experiment and the rash came back in full force within 24 hours. So, it's time to go back to using the ointment!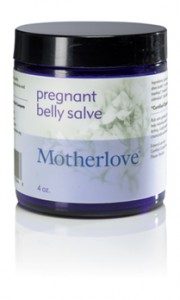 I can not say enough good things about the pregnant belly salve. My skin has itched a lot with pregnancy – until it has bled, actually. When I was pregnant with M. I tried a few different creams and ointments. Some smelled so bad that Mark didn't want to be around me. Others just plain didn't work. The one I eventually used worked ok but left my skin sticky for a long time after I'd apply it. The belly salve has a strong lavender smell…not so much that it's overpowering, but enough that it was kind of calming and I'm debating bringing some when I go into labor, just to smell. The base for the product is beeswax so it appears sticky at first, but once I rubbed it in, I wasn't left feeling like I'd been dipped in vaseline and my clothes didn't stick to my belly. Best of all though? The itching stopped within 30 seconds of me applying the salve! It worked so well I even applied it to my eczema, with good results there too. I've applied it every night before bed and sometimes during the day time as well.
Motherlove Herbal Company definitely has a new fan in me! I encourage you to check them out. You can find them via their website, their blog, their Twitter page, or, of course, Facebook.
One lucky reader will get their choice of the diaper rash & thrush ointment OR the pregnancy belly salve!
Mandatory Entry:
Visit Motherlove's website & leave a comment here with one other product that you like.
Optional entries:
1) Follow Motherlove on Twitter AND tweet about this giveaway. It's worth 1 entry per day. Make sure to leave a link to the tweet as a comment. You can use: "Enter to win @motherloveherb's organic belly salve or diaper rash ointment! #Giveaway open thru Oct. 31! http://bit.ly/bLV8eN"
2) Go to the Motherlove blog and leave me a comment with one thing you learned from there.
Make sure that you leave a SEPARATE comment for each entry! The mandatory must be done FIRST for any other entries to count. I'll be choosing a winner via a random number generator.
Giveaway is open to US residents only. It ends Sun. Oct 31st at 11:59 pm. Winner will be emailed and announced on the blog Nov. 1st. Winner will have 48 hours to respond or a new winner will be chosen.
* Motherlove Herbal Company provided me with 2 products to review free of charge, and an additional product for the giveaway winner. All opinions expressed in this review are my own.