Saturday we changed things up from our traditional teen group program. Teens had breakfast with Dr. Hal Dietz, who did a general Q&A as usual (yes, all you adults should be jealous!), but then we offered a selection of workshops with other experts for the teens to choose from. Classes included coping, transitioning to adult care, Marfriends (a class for "unaffected" siblings/children/friends), cardiovascular issues, orthopedic issues, and general Q&A. The purpose behind this was to give the teens some of the same experiences the adults get later on in the day, but in a smaller setting and with topics more specific to them. I think it was a big hit and ideas for other workshops are welcome!
The afternoon was spent on a ranch. We'd rounded up all the teens to be ready to leave, but only one bus had shown up. We were promised the other two were on their way, but after close to 30 minutes only one of those two had come. Luckily all 104 of us or so fit into the two busses, and the first left. I was the lead chaperone on the 2nd, and naturally the door broke and we had to get off and file onto the 3rd bus, which had finally shown up. When we finally got to the ranch we had to wait a bit for fresh lunch since we were late, but that was some good pulled beef!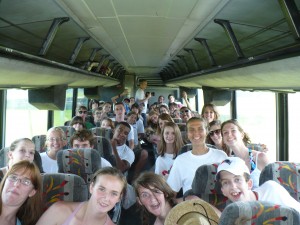 The ranch itself was really great! There was a train to ride, a pool, blow-up water slides, and cows to milk. I skipped the cow milking…Smudge and I were content to hang out in the pool. Mark got some great pics of the teens on the (doctor approved!) water slides and I love how joyous they looked. I mean, that's one purpose of our program: to give teens the opportunity to do activities in a safe environment so that for once, no one has to feel left out.
Although officially dinner was on our own at conference this year, Mom and I took a group of teens over the The Galleria (4th largest mall in the US, by the way) so they could eat together. I wish we'd had more time to explore the mall! They were definitely high end (Gucci, Prada, Juicy Couture).
That evening we held the 2nd annual teen dance and it was a BLAST! I love seeing all of the teens so free and happy. It's beautiful.
By Sunday my feet were so swollen I had trouble walking (I ended up in the ER Monday because my OB was worried I had a blood clot or early pre-eclampsia. Now I'm not allowed to fly anymore the rest of the pregnancy.). Chris Heaney and I taught a workshop on patient/doctor communication, which I think went really well. I'm definitely passionate about the subject and I was glad to see teens becoming invested in the conversation as well.
Jonathan Martin from the NMF led a discussion on fundraising, but introduced a twist. If the teens can raise $15,000 by next year's conference (that's about $150 per teen), he and Ben will let the teen who raised the most money shave their heads in front of everyone (Ben's beard included). Chris then sweetened the pot by saying if the teens double that amount, not only will he let them cut his ponytail, he will donate an additional $15,000 to the conference scholarship fund!
If anyone feels like helping the teens accomplish their goals, the link is here.
And then, too soon, conference was over. I stayed up almost all night trying to squeeze every last bit of time with my friends. When we left at 5 am the next morning, most of the teens were still awake, hanging out in the hotel lobby.
If you've never been to conference before, I urge you to try to come, especially if you have older children or teenagers. The National Marfan Foundation does provide scholarship money to help offset the costs. It's truly a life changing experience.