Thursday was a big day: I had my 6 week check-up with my OB and Baby J had his first echocardiogram to check on his aorta.
I felt like I was able to achieve some closure with my OB and I'm glad that I won't have to be back in that office again. (To his credit, he understood why I was so upset about constantly being asked about having my tubes tied; he actually volunteered that it probably seemed like the residents were saying women with Marfan shouldn't get pregnant and promised to talk with them about their approach.)
I'd scheduled the appointments with enough time in between for M, J, and me to grab lunch in the hospital cafeteria. Here you can see how I *almost* caught one of J's elusive smiles on camera.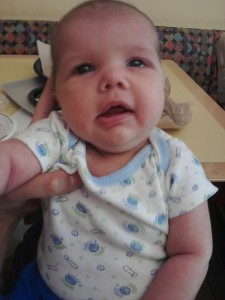 To be honest, I was disappointed at the clinic waiting room. It's a children's hospital, but there were no toys or books for the children in the cardiology clinic: just a TV. If I'd known they were running 40 minutes behind I would have taken my kids for a walk. As it was, M got ahold of the masks, motioned for me to put one on him, pulled it completely over his face, and entertained everyone running around in circles and bumping into chairs because he couldn't see.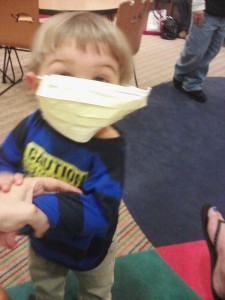 The echo tech who took us back was so helpful, carrying J for me so I could carry an overtired M and push the stroller. And thankfully, J was so exhausted himself that he didn't fight the set-up for the test and actually slept through the whole thing! The conversation with the tech was a little odd though.
Tech: So…does someone in your family, like, have Marfan or something?
Me: (confused) Um, besides HIM? I have Marfan too.
Tech: You do? And wow! How did they diagnose it so early in him?
Me: Well, we did the blood test.
Tech: There's a blood test?
Me: Yes. I had it done to find my mutation, then I had each of my sons tested.
Tech: Oooo, so it's, like, one of those gene things.
Yah, one of those gene things…seeing as Marfan syndrome is a GENEtic disorder and all that.
For those of you who aren't familiar with them, an echocardiogram is basically an ultrasound of the heart and aorta. It checks the function of all the valves and the size of the heart and aorta, particularly to see if aneurysms have developed. People with Marfan need to have them every 6-12 months. The whole thing takes about 40 minutes.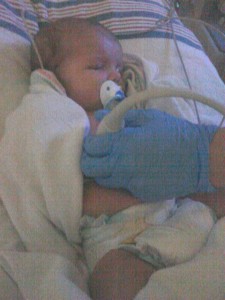 J's new doctor didn't want to schedule an appointment with us to go over the results, so I asked the tech to page him when we were finished. Of course he shows up to shake my hand just as I've got it in the diaper pail, fishing out the sippy cup lid that M. tossed in there (yes I wore gloves!). We're classy like that!

It appears our personalities did not mesh. He seemed to be more of an abrupt, give-the-parent-the-minimal-amount-of-info type of doctor. I'm the patient (and now the parent) who wants to see aortic root measurements plotted on the z-chart and copies of all the reports.
The great news is though, that everything looked normal for now. Yay!!! We go back in 6 months, I'll give the doctor another chance then, and hopefully it'll be another great echo!
For now, we have two and a half glorious weeks without ANY doctors' appointments! We haven't had this since I got pregnant I think. Next up for Baby J is his eye exam, in about 3 weeks.