Over the next few months, I'm going to be featuring guest posts from some of the teens I work with to fill in for while I'm out of town/when Baby Smudge is born. First in the series is a post written by Meaghan: an old, yet very new, member of our Marfamily.
Meaghan is entering her sophomore year in high school. Music is her passion (she plays trombone and guitar), and she aspires to be a pediatric cardiologist.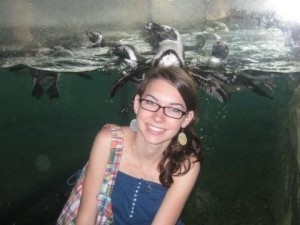 I always knew that there was something "different" about me. No, it wasn't that I was more mature than my peers from a very young age, or that I actually liked math class. For years I went on wondering why I felt like this – I just couldn't put my finger on it.
I turned twelve in 2007, and that was the year when I began to discover myself. 6th grade year was cut short because of recurring Mono, and I was forced to quit my passion, competitive horseback riding, because of severe back and joint pain.
In 2008, my dad, the National Marfan Foundation photographer of ten years, convinced me to photograph the Teen Group at the Boston NMF Conference. Reluctantly I went, not expecting to enjoy myself or make any friends. I was introduced to some of the teens, and at the time, I never expected these people were going to be my closest friends. By the end of the Conference I felt acceptance that was unlike anything back in New Jersey, and refused to leave.
Throughout the next year, I struggled with increasing amounts of pain and constant criticism from my friends. They called me anorexic because of my thin stature and early satiety when eating. Anyone in middle school wants to draw the least amount of attention as possible to themselves, and as the "skinny girl with a hunchback" it was difficult to stay out of the limelight, and I sure didn't fit in.
The next year in Rochester, I reconnected with my "Marfamily". Many my friends' mothers noticed my hypermobility and other peculiar symptoms, and asked if I had Marfan or a related disorder. I replied no, that I was just a volunteer. They pulled my dad aside and told him that I had the classic features of an Ehlers-Danlos Syndrome patient and should consider being seen by a geneticist. Did I have EDS? Is that why I felt like I belonged with the other Marfs?
Months of debilitating pain, increasing curvature of my thoracic spine, and numerous other joint and stomach problems followed and I became frustrated. Over-the-counter pain medications provided little or no relief, and my life as a high school freshman was anything but ideal. My physician referred me to a rheumatologist at The Children's Hospital of Philadelphia, hoping to get some answers. At my first visit, my parents expressed their concern about EDS. The doctor quickly dismissed it, and insisted that I had no symptoms of a Connective Tissue Disorder and that we should not pursue that route any further. He diagnosed me with a nerve disorder called Reflex Neurovascular Dystrophy – which is when the brain sends pain signals to the nerves even though there is no injury. This was to be "cured" with intense physical and occupational therapy and refraining from the use of any pain relievers. They encouraged me to attend a 2-week inpatient program at the hospital that consisted of 8+ hours a day of constant therapy. I opted to try local PT before the RND clinic. After three months of this, the pain was worse than ever before and my family was not on board with the diagnosis. I saw many other specialists and no one could answer my questions. Finally, the Connective Tissue Disorder Clinic at CHOP gave me an appointment. After a lengthy exam, the doctor said that she had the answer for us – I have Hypermobility Type Ehlers-Danlos Syndrome. My Marfamily was right.
Even though the future will bring hardships such as spinal fusion surgery and limits on my physical activity, I know the reason why I had felt different for so many years. The relief I gain from knowing what exactly has been affecting me is indescribable, and the support I get from the other teens has truly been a blessing.
Through the NMF, I found myself.