My friend Abbey is a domestic goddess. She cloth diapers, made all her daughter's baby food, sews, decorates, and runs an awesome baby product store. She's the reason I started cloth diapering and making our own laundry soap, and she's the inspiration behind my re-structuring of the Menininho's toy area.
Previously I'd put all of M's toys into a giant plastic bin. This made for easy clean-up but it was hard to rotate toys, we often couldn't find little pieces, and he didn't really use the toys. Abbey's post had been in my head for months and so when my friend Julie offered me her son's old shelf and tubs, I knew it was time to implement my plan. In a surge of nesting I made Mark dump everything out of the toy tub, bring in the shelf from the store room, and take our son out of the house so I could get to work.
I was really happy with the result. Everything is organized by toy type, which should also help with Menininho's therapy (he can work on sorting, taking turns, and following directions). Looks nice, right?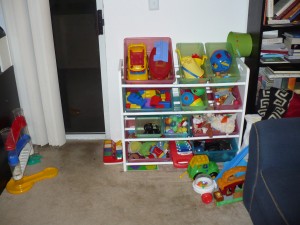 Then the boys got home. I was on the phone. Within 30 seconds it looked like this:


At least it was pretty easy to clean up. And, the speech therapist was impressed with it when he came over today and was able to incorporate it into the therapy session.
Now I just need to browse Abbey's blog for nursery decorating ideas! 😉